The Big Bang Theory season 8 spoilers: Sheldon and Amy have 'platonic' sleepover in episode 20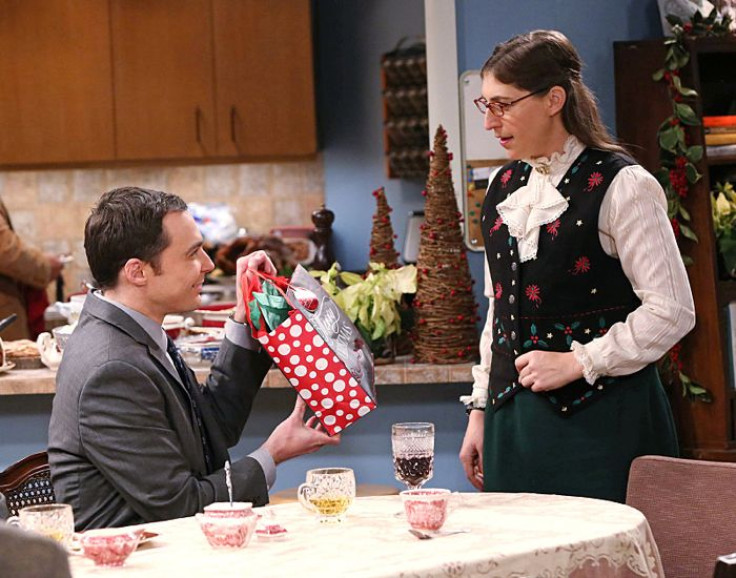 After professing their love for each other in the Valentine's Day episode, "The Big Bang Theory" all new episode will feature a big step for Sheldon and Amy.
Episode 20 is titled "The Fortification Implementation", where Dr Cooper and Amy will share their first sleepover together.
According to the official synopsis, "Sheldon and Amy have a platonic sleepover, Howard finds out that he has a half-brother and Penny gets an offer to try out for a Kevin Smith movie."
Spoilers ahead
According to spoilers, Sheldon is sad that he isn't invited to a physics symposium at Richard Feynman's former home. The incident also brings back some sad childhood memories of being left out of the forts built by his brother and sister when he was growing up. Later, Amy and Sheldon decide to build their own fort and decide to have a platonic sleepover in the fort.
What will happen in their first sleepover? We will have to wait till next Thursday, 9 April to find out.
Meanwhile, Howard inherits his father's house, and while discussing redecorating, a man shows up at his door; he is Howard's half-brother Josh. Turns out Mr Wolowitz also left Josh's family and they both loath him for it, and they bond over the same.
Previously, The Hollywood Reporter confirmed that Victorious alum Matt Bennett has been roped in to guest star on the hit CBS show.
Bennett will play Josh, Howard Wolowitz's (Simon Helberg) younger half-brother.
The casting comes as this season bade farewell to Howard's mother, Mrs Wolowitz, following the death of Carol Ann Susi who voiced the character.
Showrunner Steve Molaro said the passing of Mrs Wolowitz left the door open to explore more of Howard's family.
"It has not happened yet, but it's absolutely something that we think about," Molaro said of bringing Howard's father into the picture.
"At some point, I'm interested in looking further into [it]. I don't think it would even happen this season ... [but] it's hard not to think about: Does he know this even happened? It's a very legitimate question that I don't have the answer to yet," he added,
"The Big Bang Theory" airs on Thursdays at 8 pm on CBS.
© Copyright IBTimes 2023. All rights reserved.