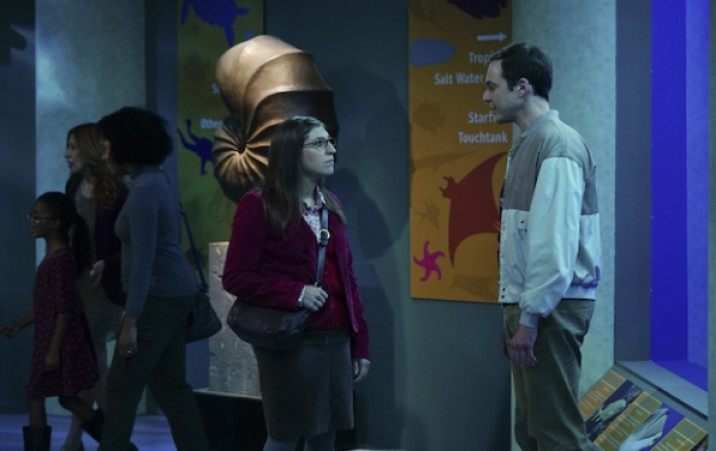 The Big Bang Theory will go on a brief hiatus and return with an all new episode next Thursday, 10 December, at 8pm EST on CBS Network. The upcoming episode is titled The Earworm Reverberation, where Sheldon will have a big revelation about his life.
Warning: Spoilers Ahead
The official synopsis reads as follows:
Sheldon has a revelation when he realizes why a song was stuck in his head. Also, Amy invites Dave (Stephen Merchant) over for dinner despite their previously awkward date, and Wolowitz and Koothrappali become obsessed with a fan of their band, Footprints on the Moon, on The Big Bang Theory.
According to a leaked report, Sheldon will figure out that the song struck in his head is The Beach Boys, song "Darlin" and its lyrics goes: "I was living like half a man, Then I couldn't love but now I can, You pick me up when I'm feeling sad, More soul then I ever had."
The genius realises that the song is about him and Amy and immediately runs off to find her. The episode will end with Sheldon telling Amy that he still loves her and they both share a long passionate kiss.
As previously reported, the couple will finally take their relationship to the next level and get intimate in the fall finale episode airing on 17 December. Actor Jim Parson spoke about Sheldon losing his virginity in an interview with ET Online. The actor joked: "Putting the 'bang' into the theory, I guess."
Parsons also revealed that he was surprised to read the script. "I was very surprised. But then I read it, and it seemed absolutely the right time," he admitted. Speaking of the intimate scene, the four-times Emmy winner noted: "It was fun to act. It wasn't hard to act."
Mayim Bialik who plays Amy said: "I was kind of nervous when I first saw where it was going — that it was going to feel voyeuristic or kind of icky, but it's very tender. It's very sweet."