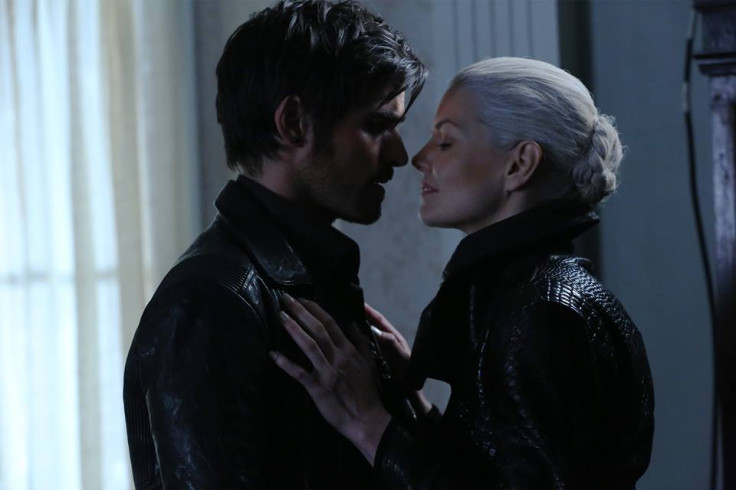 Once Upon a Time season 5 will take a trip to the underworld, all thanks to Captain Hook's dark plan. In the previous episode, Hook opened the portal to the inferno, thereby let out all the Dark Ones, including Nimue, from hell. Hook wants to fulfill his revenge on Rumpelstiltskin, aka Mr Gold, by snuffling out all the light from Storybrooke.
Warning: Spoilers Ahead
Here are a few things to expect in the winter finale episode:
1.The winter finale episode, titled Swan Song, will air on 6 December at 8pm EST on ABC Network. According to the synopsis: The dark siege of Storybrooke is underway as all of the resurrected Dark Ones target a living soul for sacrifice so that they can return to the realm of the living.
Actor Colin O'Donoghue, who plays Hook, talked about his character's revenge plan in an interview with The Hollywood Reporter. He dished out: "His thing is revenge on Rumple, and he's willing to let the darkness use him in whatever way it needs to get that done. Transporting everyone into the underworld through that portal is his way of getting revenge on Rumple."
2. Gold advises Mary Margaret, David and rest of the heroes to spend their last fleeting moments enjoying the company of their loved ones but Emma Swan refuses to give up. Emma will face off against Dark Hook and with the fate of Storybrooke at stake, his actions will devastate Emma in a way no one foresaw.
3. Is there hope for Emma and Hook? O'Donoghue teased a complicated relationship between the former lovers. He said: "That's an interesting question. The darkness is one of those things where I think if they're both dark, I don't know if that could work. At the minute with the way that Hook is, it's a very difficult thing to see happening... it's complicated. (Laughs.) Much like most of their relationship, to be honest. It's pretty much a complicated thing."
4. In a Fairy Tale Land flashback, the Evil Queen will test Hook's mettle by forcing him to confront a demon from his past before contracting him to dispatch one from hers. The demon mentioned here is Hook's father, who will make a surprise appearance.
O'Donoghue said: "We still see elements of Hook's father and what his relationship with him was and a bit more of Hook's backstory as well in fairytale land."
5. A new promo shows the Dark Ones roaming around Storybrooke as Gold points out: "This is a fight we cannot win." We see Nimue trying to take Snow, David, and Henry's soul as Hook tells Emma: "You will get to watch everyone you love die."
Emma responds: "I will protect my family even if I have to kill you to do it." Will Emma kill Hook? Watch the the winter finale episode of OUAT season 5 to get the answer.