Biggest Mobile Internet Companies in the World Led by Twitter, WhatsApp and Uber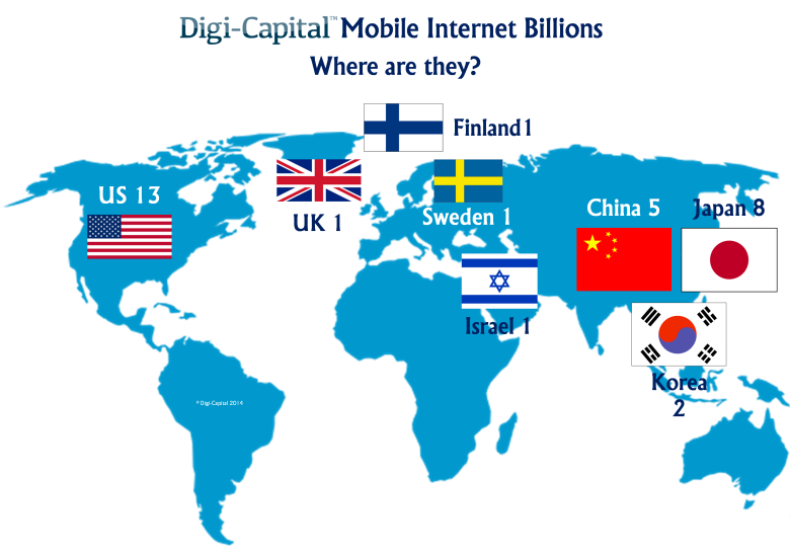 There are 32 billion-dollar mobile internet startup companies, up from 25 just two months ago, according to a new report.
The report on VB Insight, by mobile consultancy Digi-Capital, places $30 million Twitter as the mobile web's biggest company - it gets 75% of its traffic from mobile.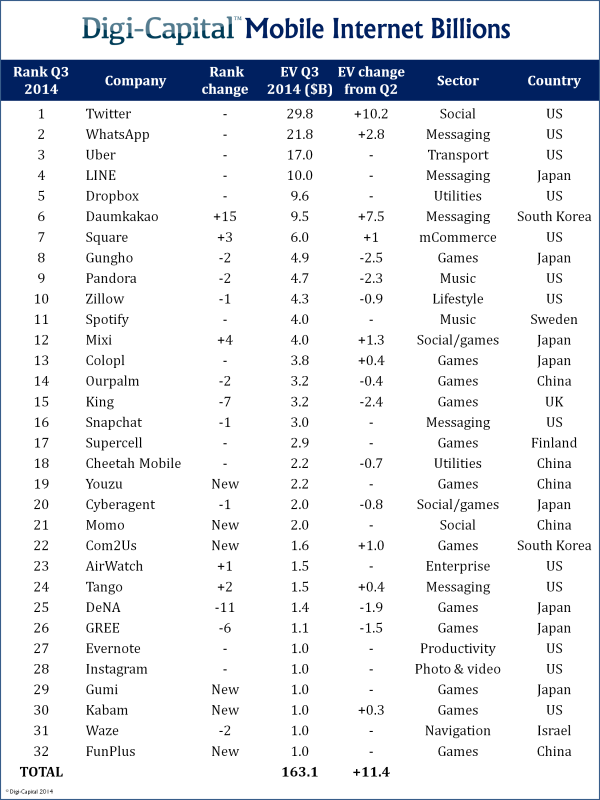 Digi-Capital
American's WhatsApp and Uber round out the top 3, as US companies dominate the rankings with 13 of the listed 32.
Japan, led by $10 million messaging app Line, is also well represented in Digi-Capital's analysis with 8 companies amongst the mobile web's rich list.
In this latest edition, China more than doubled its numbers on the list, going from two to five, following the entrance of FunPlus, Momo and Youzu.
Those three countries make up the bulk of the best, though South Korea has two high-performing mobile web enterprises.
King games, the UK's only listed company, has fallen upon hard times, dropping seven places and losing $2.4 billion
With desktop origins and desktop business, many giant internet companies such as Facebook don't fit the criteria for the quarterly study.
Digi-Capital managing director Tim Merel told VentureBeat that Qualcomm and Apple don't fit the filter, nor do companies with "substantial but minority mobile Internet businesses," such as Tencent with WeChat.
He said: "Digi-Capital's Mobile Internet Billions list has added $11.4 billion shareholder value in Q3 2014 alone.
"That's $125 million value added every day of Q3 to reach a combined $163 million valuation, only seven years after the launch of the iPhone."
Perhaps most interesting is the dominance of the mobile gaming sector, with 12 of the 32 companies occupying the games space.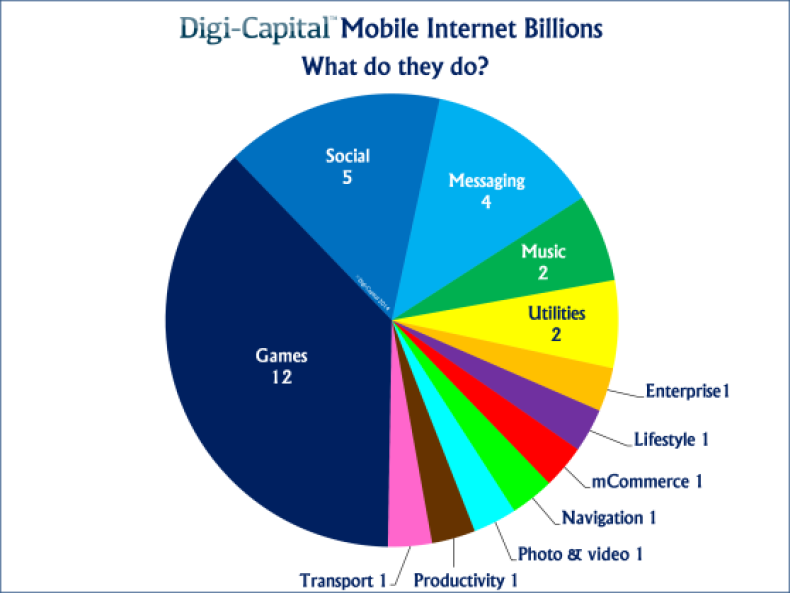 Five of the companies are social, four are messaging services, and the rest are scattered across a range of 12 internet industries.
Merel said: "The diversity of the Mobile Internet Billions companies is as impressive as its scale.
"The next billion-dollar company could come from any mobile Internet sector."