Bilal: A New Breed of Hero has all the makings of a blockbuster animated action film and an unlikely hero.
Set 1,000 years ago, Bilal dreams of becoming a warrior but is enslaved with his sister. After seeing a world of injustice and brutality, the film-makers say: "Bilal finds the courage to raise his voice and make a change."

Bilal, the first historic epic to be told as a computer generated animated feature, is the re-telling of Bilal Ibn Rabah's story, a freed Ethiopian slave who converted to Islam and became a trusted companion of the Prophet Muhammad.
Actors Adewale Akinnuoye-Agbaje (Game of Thrones), Jacob Latimore (The Maze Runner), Ian McShane (American Gods) and China Anne McClain (Tyler Perry's House of Payne) all voice lead characters in Barajoun Entertainment's first feature film production.
A team of about 250 animation professionals - some of whom have worked on Shrek, Life of Pi, Star Wars and The Avengers - helped bring the film to life.
The project was in development for eight years, according to its producer. Initially the film premiered on December 9, 2015 at the 12th Annual International Dubai Film Festival, and was released later on throughout the Middle East and North Africa region a year later. After positive reviews- it was nominated for nominated for Best Animated Feature Film 2016 at The Asia Pacific Screen Awards and received a 80% on Rotten Tomatoes - it is now set for official distribution in the USA on February 2, 2018, via Vertical Entertainment.
Ayman Jamal, screenwriter, founder and managing partner of Dubai-based Barajoun Entertainment, told IBTimes UK: "I realised there was a lack of animated films about heroes from our very own history. One day I saw my son running around wearing a costume and pretending to be a fictional character. This was bittersweet for me as I wanted him to get inspired by real role models.
"As I rummaged through my brain for a replacement, I couldn't find a single one. This is when the idea of a Bilal movie began."
He said that the film production only took three years but they were slowed by a slew of hurdles.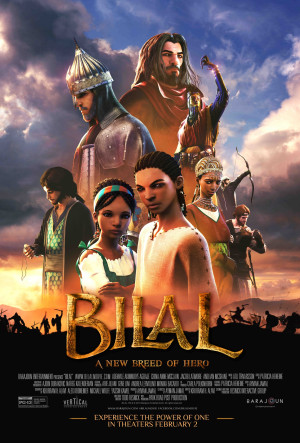 It is also the first 3D animated feature film to come out of the Middle East and North African (MENA) region.
What's more, in 2016 it was submitted for consideration to the Oscars Awards for Best Animated Feature.
"I not only had to create the film, but also the company to go along with it. Barajoun Entertainment was built from the ground up, making it the first CGI Company in the MENA region based in Dubai," Jamal said.
The project means a lot to Jamal who has seen the film grow from its early roots.
His hope is that the film will talk to audiences beyond the normal superhero fights villain story line. He wants the message of freedom to leave its mark on viewers.
"We hope that this movie will inspire many to speak up, and believe in their own power, and to have faith in their abilities.
"Last but not least, we hope this movie has provided a role model that will transcend time and inspire all the people, from all ages and backgrounds, around the world."
Bilal: A New Breed of Hero will be in select cinemas February 2.