Black cab drivers stage central London protests over Uber and TfL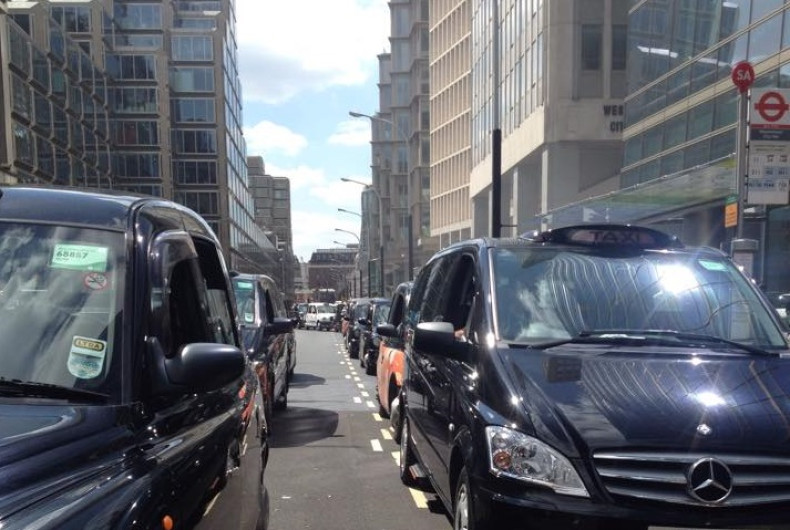 Thousands of taxi drivers have staged a "slowdown" protest in central London against rival service company Uber and Transport for London (TfL).
The black cab drivers purposely drove slowly to cause traffic problems outside London Victoria station and the nearby TfL offices.
As many as 2,500 drivers were planning on taking part in the event organised by the United Cabbies Group (UCG), although the exact number of those who attended is unclear.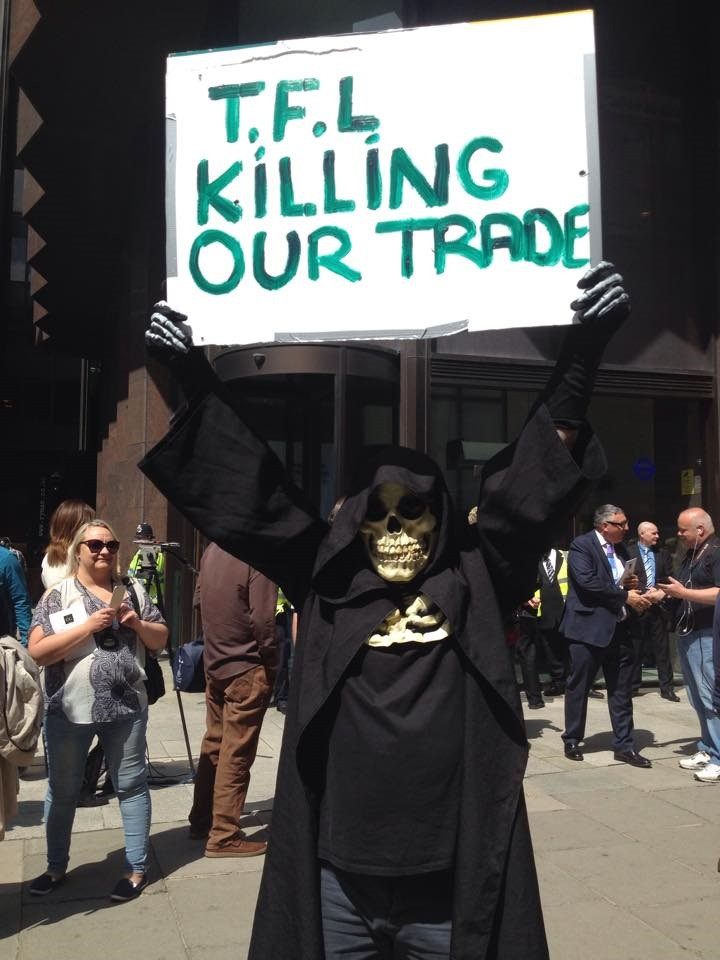 A protester taking part in the event in central London
Katy Miller
The protests stem from the recent Future Proof report which described how taxi services such as Uber are only the "tip of the iceberg" in terms of issues facing the industry and expressed concerns about whether TfL has the "appetite, and capability, to oversee these industries effectively".
Caroline Pidgeon, chair of the Transport Committee, who helped produce the report, said: "We are also deeply concerned at the continued decline of the relationship between the taxi and private hire trades and TfL.
"It is time for the mayor and TfL to get a grip on this spiralling situation and to develop a long term strategy that will enable these vital industries to flourish and ensure that the needs of passengers are addressed."
Photos emerged of hundreds of taxi cabs lining the streets of London as part of the latest protests. The organisers said the planned slowdown will end after between 90 minutes to two hours.
TfL urged the drivers to call their protests off as it will "unnecessarily disrupt Londoners and visitors to the capital" and "achieve nothing" like their previous slowdown.
Cab drivers staged a similar protest last year in Trafalgar Square in protest at the regulation of Uber. However, the protests backfired as the number of subscribers to Uber rocketed by more than 800% in the following days.
Garrett Emmerson, TfL's chief operating officer for surface transport, said: "There is absolutely no justification for this protest because we are already doing the very things they are calling for.
"Just like the previous protest on Oxford Street, it will achieve nothing other than to disrupt life and business in London.
"We are determined to protect the livelihoods of all legitimate taxi and private hire drivers through robust enforcement action."