Apple has just kicked off its Black Friday sales across various retail outlets in Europe (including the UK) with cash discounts rather than gift cards, which has been the norm in Australia and New Zealand. Quite surprisingly, Apple's European stores have stuck to the traditional discounted pricing scheme.
It was earlier assumed that Apple would adopt the new gift card promotion scheme for its Black Friday sales across all of its retail chain outlets in the world. It is quite unclear why Apple has chosen to offer price discounts in the UK instead of gift-card based promotional offers.
Though Apple seems to be offering expectedly modest discounts in the UK, it should still amount to a handful of savings on your Black Friday shopping spree. Here is the complete list of popular products being offered at modest discounts via Apple Store UK: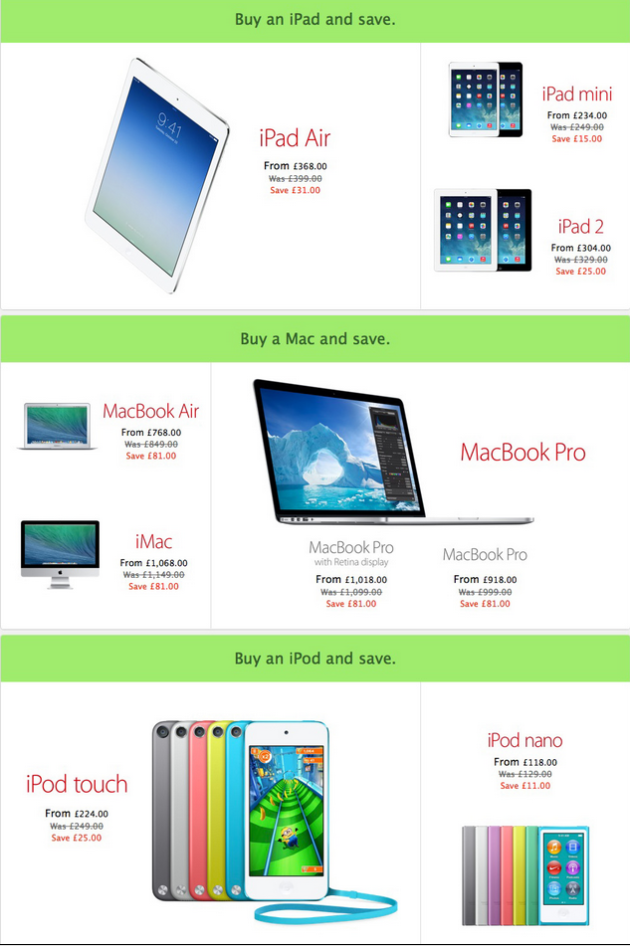 iPad Air: Save £31 ($50) to £61 ($99)
iPad mini: Save £15 ($24) on nonRetina models, no discount on Retina models
iPad 2: Save £25 ($40)
iPod touch: Save £25 ($40)
iPod nano: Save £11 ($18)
MacBook Air: Save £81 ($132)
MacBook Pro: Save £81 on both Retina and nonRetina models ($132)
iMac: Save £81 ($132)
Apple TV: Save £15 ($24)
AirPort Extreme: Save £15 ($24)
AirPort Time Capsule: Save £25 ($40)
The Black Friday sales in the US and Canada is scheduled to start at midnight PST or 3am EST. The discount promotion in the UK starts on 29 November at 12:01am GMT and ends at 11:59pm GMT on the same day.
In case you are still dissatisfied with Apple's Black Friday promotional offers, you could hunt for the cheapest deals from third-party vendors using our shopping apps guide for unbeatable deals in the market.
Also Read: GTA 5 Online: Rockstar Offers Big Black Friday Weekend Discounts on Weapons and Accessories