Black Friday Best Buy Tech Deals - $1 Samsung Galaxy S5, iPad Minis, 4K TVs and More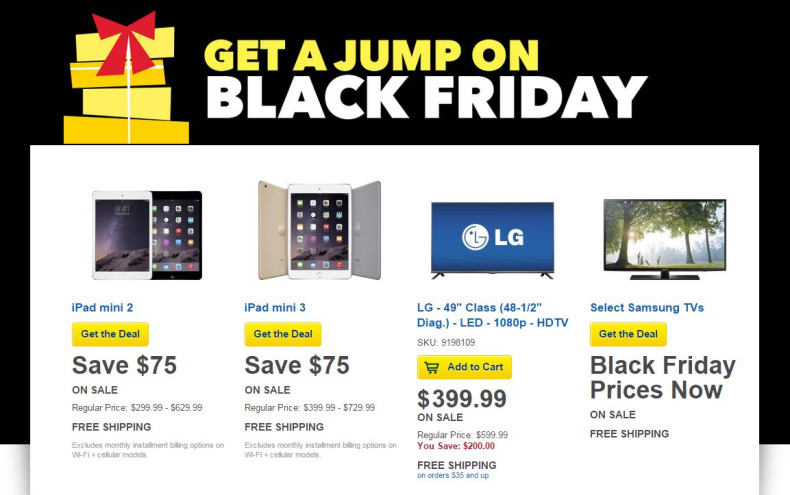 US retailer Best Buy has revealed a slew of deals in anticipation of Black Friday (28 November).
Apple iPad Minis, Samsung Galaxy S5s, Beats headphones, television sets from LG, Sony, Kindles and various laptops, cameras, games, films, and hoovers are on offer right now.
You can view Best Buy's Black Friday page here.
In the best deal available so far, US shoppers can save $200 on an LG 49in television, which is now available for $399.99.
A 65in 2160p 4K Ultra HD television set from Vizio is also available at $1,499.99, which is $700 off.
Apple iPad Mini 2 and 3 models are also available for between $75 and $100 off the regular price, and Samsung Galaxy S5's are being sold for $1 (with a two year contract), which saves $198.99.
Beats by Dre headphones are available in black, white, red, and green for $99.99, which is $70.00 off the normal price.
Elsewhere there is a GoPro 4K Camera for $499.99, Amazon Fire TV Sticks for $24.99, a Samsung Galaxy Tab 4 (16GB) for $249.99, and an Amazon Kindle Fire HDX (16GB) for $179.99.
There is also an Apple MacBook Air 13.3in model with 4GB memory and 128GB flash storage for $899.99.