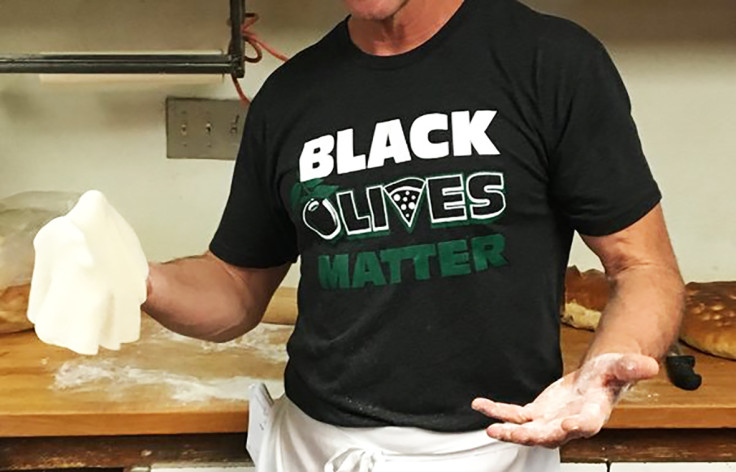 A restaurant criticised for a controversial sign imitating the "black lives matter" slogan has started selling merchandise after getting so much publicity. Paisano's in Albuquerque, New Mexico, featured a sign saying "Black olives matter. Try our tapenade" and received so much attention it decided to cash in by selling branded T-shirts and hats featuring the slogan.
Restaurant owner Rick Camuglia said he had made the original sign to encourage patrons to try the tuna tapenade made with black olives and went on to sell merchandise because he got so many calls from people who wanted to buy T-shirts with "black olives matter" printed on them.
The restaurant was "offering a special seared ahi tuna with a black olive tapenade," Camuglia told Fox News. "My chef had prepared the topping and placed it in the fridge. He wrote 'Black Olives Matter' on the container and I thought it was hilarious. So we put it on the marquee."
However, the restaurant initially received a backlash after posting a photo of the sign on its Facebook page.
"It wasn't a mistake to put up the billboard, but it was a mistake to post it on Facebook," Camuglia added. "People were calling us racist. Saying we were a white supremacist restaurant. Some got really derogatory and just started cursing me out."
But after the backlash was reported, the tables once again turned for Camuglia, and people began calling him and asking him if they could buy a T-shirt with the phrase printed on it – and business has reportedly increased too.
"The thing has gone inexplicably viral," Camuglia told KOAT. "It's just something to do that's kind of fun now, it's different from selling pasta."
Many social media users also countered the criticism, stating they didn't see anything wrong with the slogan.