US toy retailer Toys 'R' Us has confirmed plans to close at least 26 of its UK stores resulting in the loss of hundreds of jobs.
Approximately 800 jobs are understood to be in jeopardy as the company plans to shut almost a third of its 84 permanent stores in Britain.
In September, the company's US arm filed for bankruptcy protection to restructure debts of £3.7bn. The move was intended to ensure that the retailer's suppliers would be paid ahead of Christmas.
While at the time, the firm insisted that its UK stores were safe, the company is preparing to launch a company voluntary agreement (CVA) on 21 December to renegotiate its debts with its landlords, which will require the approval of 75% of its creditors.
However, on Monday (4 December), Steve Knights, managing director of Toys R Us UK, said the company had been forced to take "strong and decisive action".
Knights added the retailer's warehouse-style stores, which opened across the 1980s and 1990s, had become "too big and expensive to run in the current retail environment".
"Like many UK retailers in today's market environment, we need to transform our business so that we have a platform that can better meet customers' evolving needs," he explained.
"The decision to propose this CVA was a difficult one, but we determined it is the best path forward to make essential changes to the business," Knights said.
"Our newer, smaller, more interactive stores are in the right shopping locations and are trading well, while our new website has generated significant growth in online and click-and-collect sales.
"But the warehouse-style stores we opened in the 1980s and 1990s, while successful in the early days, are too big and expensive to run in the current retail environment.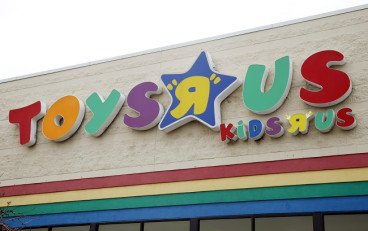 The business has been loss-making in recent years and so we need to take strong and decisive action to accelerate the transformation."
The CVA process is separate to bankruptcy protection proceedings involving Toys R Us's US parent company, which were announced in September.
A number of lenders, including a JPMorgan-led bank syndicate, have already committed $3bn (£2.2bn) in debtor-in-possession financing, with the aim of helping the 69-year-old company tackle its exorbitant debts.
The chain is saddled with debts following a $6.6bn buyout in 2005 led by KKR & Co and Bain Capital LP, together with real estate investment trust Vornado Realty Trust. The company also has bonds coming due in 2018, which according to industry data have lost 50% of their value in September alone.