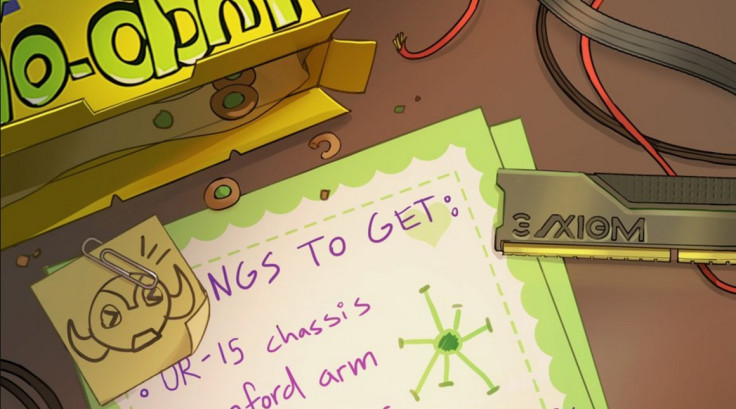 Continuing its steady trickle of teasers and details about Overwatch's new hero, Blizzard has released yet another hint regarding the popular shooter's 24th playable character. In a post on Overwatch's official Twitter account, Blizzard shared a photo featuring child-genius Efi Oladele's "Things to get" list, further raising speculation that the Numbani native could be building the next Overwatch hero.
Last week, the developer released a mock interview with the 11-year-old robotics and artificial intelligence expert who recently received the Adawe Foundation's prestigious "genius grant".
The tweet reads: [UPDATE] Genius grant recipient and Numbani local Efi Oladela posts curious image on her holovid channel, declaring: 'Time to get to work!'"
The image shows a shopping list that includes items such as OR-15 chassis, Branford arm, Fusion driver, miniature Tolbelstein reactor, Lucio-Oh's, paint and "Axiom vocal processor" which has already been crossed out with the words "Got it" written in the corner.
When asked about how she plans to use the grant money in the recent in-universe interview, Efi responds: "Oh... I have an idea...It's a secret for now."
Over the past few weeks, Blizzard has been teasing Overwatch fans with various clues about the game's 24th hero.
Last week, the developer tweeted an image from an in-world news station covering an incident at the Numbani airport in which OR15 defence units were destroyed in a confrontation with an "unidentified assailant".
In Efi's "interview", she mentioned that she was about to take her first trip on a plane. Eagle-eyed players also noticed that the in-game airport's arrivals board featured some changes to the flights and schedule, according to PVP Live.
Fans were previously speculating that the next Overwatch hero to be released would be Doomfist who has popped up multiple times in the game's lore, in-game and in previous cinematic shorts. However, Jeff Kaplan recently revealed that "24 is not who you think it is".
Over on the Public Test Realm, the Numbani map also featured changes where the airport starting area for the Attack team showed similar damage as seen in the tweeted "news" photo. The Numbani map's payload - Doomfist's massive gauntlet - was also missing, bringing the focus back to Doomfist again.
"I want to create things that make our lives better," Efi said in the in-universe interview. "And someday, my dream is to build something that can keep us safe, like the new OR15s! I think that would be great."
Overwatch is available now for PS4, Xbox One and PC.