The world's first modular smartwatch, which uses hardware 'blocks' for its strap to create a fully customisable device, has announced a collaboration with US chip giant Qualcomm ahead of its launch later this year.
Blocks smartwatch, developed by UK-based startup Blocks Wearables, takes inspiration from the modular phone concept Phoneblocks that has since been bought and developed by Google as part of Project Ara.
Individual strap modules linked to a core display unit provide different functions, depending on the wearer's needs.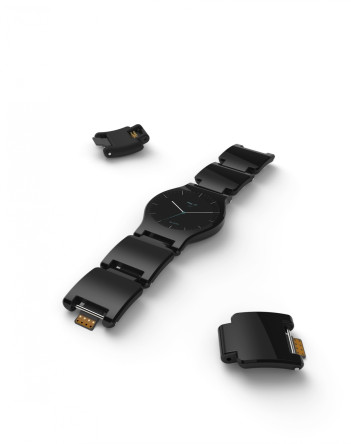 Blocks links can be used to add additional sensors, such as GPS or a heart-rate monitor, as well as incorporate microphones, additional battery or contactless payment components. An open platform means that new apps or blocks can be developed by third party companies or individuals.
"You can upgrade or replace blocks as your needs and lifestyle change," a spokesperson for Blocks said. "If you're into sports, you may choose a heart-rate block to measure your pulse, an activity tracker to log your movements and calories that you burn, and a simple LED screen.
"The great thing about Blocks is that you can choose any combination that you want − start with something basic and add blocks over time."
The device will be powered by a Qualcomm Snapdragon 400 processor, much like the majority of Android Wear devices, and will run the latest Android Lollipop OS.
"The wearables market is in an incredibly exciting phase and will see a diverse range of forms and functionalities," said ARM Vice President Ian Ferguson.
"Their one commodity is that all will require ultra-low power intelligence to ensure battery life is attractive to end users. Blocks' modular approach is a great example of the creativity and innovation that is possible on the ARM architecture."
London-based Blocks has also partnered with British jewellery firm Tateossian to create customisable and removable shells for each module.
Funding from Blocks has so far come from Intel as part of the chipmaker's Make It Wearable contest last year. However, a crowdfunding campaign is planned for the summer.