The rare Blue Moon Diamond has been sold for a record $48.26m (£31.7m) in Geneva, auction house Sotheby's has confirmed. The jewel, which was part of a star lot of Sotheby's Magnificent Jewels and Nobel Jewels auction, was expected to fetch between $35m and $55m.
The 16.08-carat diamond, set in a platinum and gold ring, was purchased by a private collector from Hong Kong and renamed 'The Blue Moon of Josephine'. The sale price is a record for any gemstone and also per carat, a spokesman said.
The gem, which was named the Blue Moon Diamond by sellers Cora International, in recognition of its rarity, was discovered in January 2014 as part of a 29.62 carat blue rough diamond at Cullinan mine in South Africa, the world's main source for blue diamonds. It was then cut and polished in New York, a process that took six months and resulted in the vivid blue gem, according to Sotheby.
Sotheby's International Jewellery Division Chairman and Auctioneer, David Bennett, said that experts had deemed it internally flawless due to its clarity, colour and size. Blue diamonds make up only 0.1% of diamonds unearthed at the mine. According to gemmologists, a blue diamond receives its colour from small amounts of the chemical element boron which becomes trapped in the crystal structure during its for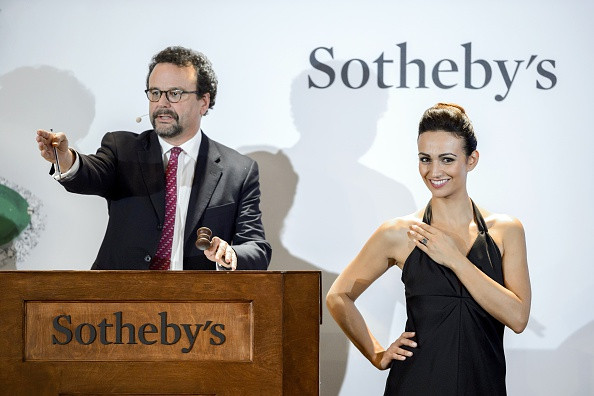 "You're looking at something that, by freak of nature, has been brought up by a volcano. It is just so extraordinary that this diamond would have stayed forever, miles under the earth surface but by the fact that it was associated with a volcano is now part of our world, I find that absolutely extraordinary. It's like the most secret part of the earth is just being shown to us," Bennett said.
So far, the highest price on record for a blue diamond is $32.6m, paid in November 2014 in New York for Bunny Mellon's Blue Diamond. Its final price surpasses the $46m record set by The Graff Pink five years ago.
Its record price for The Blue Moon comes the day after a pink diamond was sold for £18.8m ($28.5m) by auction house Christie's at the same jewellery auction in Geneva. It is not clear whether the same collector bought both diamonds.