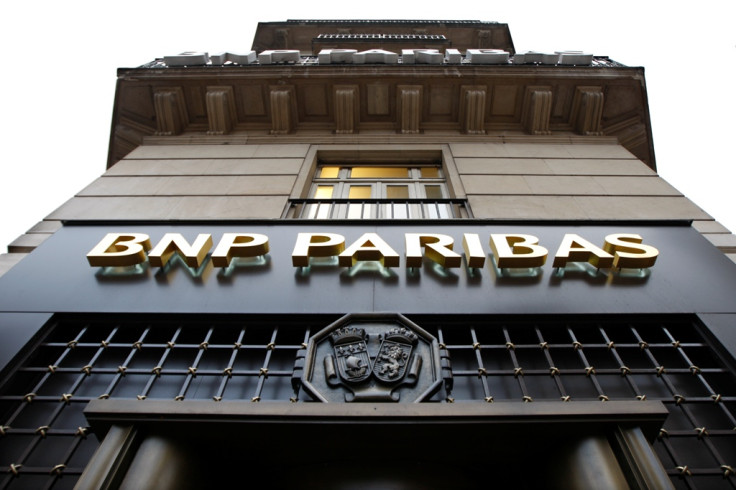 BNP Paribas's stock dropped in early Paris trade after it warned that rising taxes and new regulations will impact earnings next year by €500m, and after it reported a near 97% drop in full-year net profit for 2014.
Shares in France's largest bank were trading 3.99% lower at 09:21 CET on 5 February.
BNP's 2014 net profit tanked 96.7% to €157m ($178m, £117m) from a year ago, owing to the near $9bn fine it agreed to pay to settle a US sanctions violations case.
Analysts polled by Reuters had forecast a net profit of €531m.
For the fourth-quarter of 2014, however, the lender reported a net income of €1.3bn, a jump from the €110m booked a year ago.
The bank, on Thursday, also unveiled increased cost cuts to cover growing compliance and control expenses.
BNP said in a 5 February statement: "The Group is facing a deteriorated economic and interest rate context compared to the base scenario.
"The Group is also facing a sharp rise in taxes on banks in Europe, which will be reflected in 2016 by €370m in additional costs above and beyond the initial plan, primarily related to the contribution to the Single Resolution Fund and to the Single Supervisory Mechanism (€340m).
"The Group also has to incorporate the additional costs stemming from new regulations that apply to foreign banks in the United States with the ongoing setting up of an Intermediate Holding Company (IHC) and the additional costs stemming from the introduction of the Comprehensive Capital Analysis and Review (CCAR) by 2016.
"It also has to take into account the future introduction of the Total Loss Absorbing Capacity (TLAC) mechanism that was agreed in principle by the G20 in Brisbane, the specific terms of which are in the process of being evaluated (implementation expected at earliest in 2019), but which could add additional costs as soon as 2016.
"All of these new taxes and regulations are expected to have an aggregate impact of the order of -€500m on the Group's net income in 2016, or approximately -70 basis points on the return on equity..."
The US case against BNP accused the bank of using a network of banks in the Middle East, Europe and Africa to mask dollar-based transfers connected to the rogue nations. In addition, the bank's employees removed records that would have revealed the identity of the countries.
BNP's guilty plea meant that the bank admitted to violating the International Emergency Economic Powers Act and the Trading with the Enemy Act.