Bobbi Kristina Brown, the daughter of Whitney Houston and Bobby Brown is reportedly in a medically induced coma, suffering from swelling on the brain.
The reality TV star was found unresponsive and face down in a bathtub at her Georgia home on Saturday. (January 31)
The 21-year-old was discovered by her husband Nick Gordon, who began CPR before police took over as they awaited an ambulance.
According to TMZ, Bobbi Kristina is in a stable condition in the intensive care unit of the North Fulton Hospital in Roswell.
Her father, singer Bobby Brown, is on his way to her bedside, reported People magazine.
Lisa Holland of the Roswell PD told the magazine: "Obviously we all know her mom died this very same way. Can't say how sad this is. It's a difficult situation for police officer to perform CPR on any person."
At a press conference outside the hospital Holland confirmed "she is still alive and breathing. Other than that, I don't know her condition."
She added that it is unclear what caused Bobbi Kristina to collapse but police are talking to friends and family and obtaining a search warrant to search the residence.
"We don't know that if it was an accident or what this could be," she added.
Her mother Whitney Houston passed away three years ago on February 11th, 2012, aged 48, in eerily similar circumstances when she was found unresponsive in a bathtub of a Beverley Hills hotel on the eve of the Grammys in February of 2012.
A coroner concluded that her death was as a result of accidental drowning, though heart disease and cocaine use were contributing factors in her death.
It is alleged that Bobbi Kristina had turned to drugs following the death of her mother. Just two days after the first anniversary of Houston's death, Bobbi was pictured being taken to hospital on a stretcher appearing unconscious. She was hospitalised for treatment, after mixing alcohol with a sedative.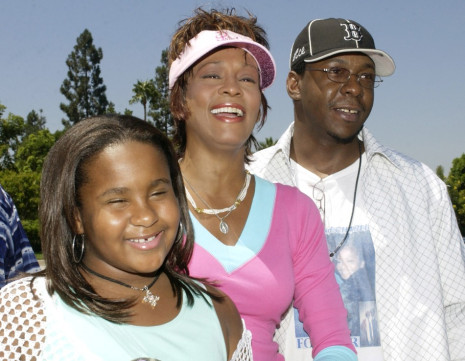 In March 2011 the National Enquirer published images allegedly showing the then teenager snorting lines of cocaine. The publication claimed that Whitney Houston intervened to prevent the publication of the damning images. But Bobbi Kristina denied the reports of drug-taking, claiming she had no need to go to rehab as she was "perfectly healthy."
Shortly after Whitney's death more images were made public which showed Bobbi apparently using a three-foot bong to smoke marijuana.
Police were last called to the family home on January 23rd after a 'reported fight,' but officers found no one home when they arrived.
TMZ reported on Saturday: "We've also learned police executed a search warrant on the home this afternoon, and we're told no drugs were found."
On January 26th, 2015, just days ahead of the third anniversary of her mother's death, Bobbi Kristina posted an emotional tweet in memory of her mother.
She wrote: "Littlelady & yourgrowing young man @nickgordon miss you mommy so much...loving you more every sec, #Anniversary!'"
Speaking to Oprah Winfrey about her mother's death in March 2012, Bobbi said: "It's so surreal sometimes. I still walk in the house and call her name. She's always with me. I can always feel her with me. She used to say, 'Do you need me?' and I would say, 'I always need you.'