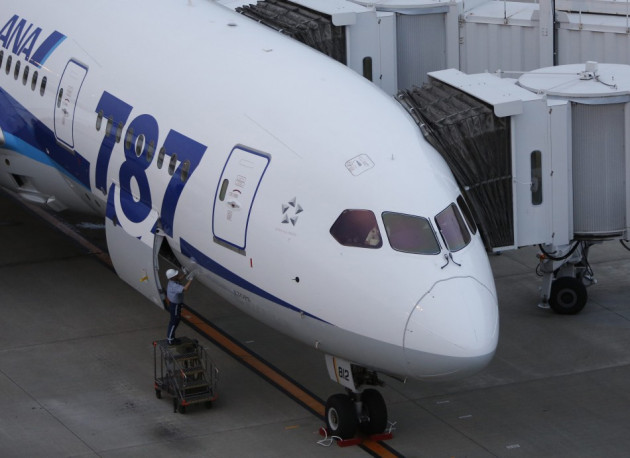 Troubles are continuing for Boeing with further technical glitches found in its flagship 787 Dreamliner aircraft.
On Wednesday, a Dreamliner operated by Japanese airline All Nippon Airways (ANA) was grounded due to an engine trouble. That marks the third consecutive day of technical issues for the Boeing aircraft, the entire fleet of which was grounded for months because of a battery problem.
In the latest development, one engine on a 787 operated by ANA did not start after 141 passengers had boarded a Tokyo-bound flight from Yamaguchi prefecture in western Japan. The Trent 1000 engines used in Dreamliners are supplied by Britain's Rolls Royce.
The ANA pilot decided to call off the flight following warnings of the problem by cockpit instruments. The company is investigating the trouble.
Following the incident, Rolls-Royce said it is working with ANA on the engine problem.
The day before, ANA rival Japan Airlines (JAL) had to turn back a 787 flight to Singapore due to a problem with the anti-icing system. That followed ANA's cancellation of a Tokyo-bound flight from an airport in Fukuoka due to improper functioning of the left engine.
The problems come just weeks after ANA and JAL, the biggest customers of Boeing's Dreamliner aircraft, put their full fleets back in commercial service following a four-month-long grounding due to battery issues.
While none of the recent issues are thought to be major, they are expected to reduce customer demand for the flagship aircraft model which had already suffered due to delayed deliveries.
Boeing took almost a decade to develop the light-weight and fuel-efficient model and the manufacturing processes delayed its launch for several years.
The aircraft maker, however, is certain about the plane's reliability, and said it is working with the affected customers.
"Cancellations and delays are not uncommon, the reliability of this plane is at or above any new airplane the industry has recently introduced," Boeing said in a statement released to Sky News.