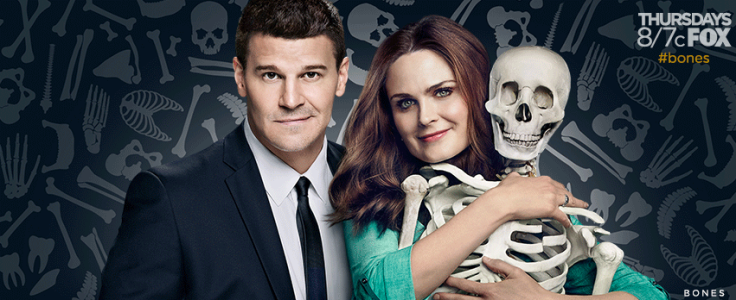 Bones season 10 returns with its spring premiere episode on Thursday, 26 March on Fox.
Episode 11 is titled, The Psychic in the Soup, where the team will remember Dr Lance Sweets on his birthday.
Click here to watch episode 11 online on the official Fox website.
The Jeffersonian team, with the help of Angela's psychic friend, Avalon Harmonia (guest star Cyndi Lauper), is drawn into the twisted world of fortune tellers when the body of a local psychic is found decomposing in the trunk of a tree. However, when the team learns more about the victim's personal life, those closest to her become suspects. Meanwhile, Booth and Brennan debate the pros and cons of Christine's new imaginary friend and the team remembers Sweets on his birthday.
Prior to the mid-season break, fans witnessed the birth of Sweets and Daisy's son; which followed with Aubre teaming up with Seeley Booth (David Boreanaz) and the journey of the forensic anthropologist and her husband relationship post marriage.
Pregnancy News
Since Emily Deschanel is expecting a child in real life, will the producers include this on the show and give the onscreen couple their second?
Executive producer Stephen Nathan told Buddy TV: "Really the pregnancy is going to have a little bit more impact on them this season because the forensic anthropologist now realizes what it is to have a child. Having the family expand and grow -- now she knows the tremendous risk that she and Booth's job have in terms of how it affects their family. So, she is going to have to deal with that."
Nathan further explained, "There are emotional considerations that surprise him and will affect the pregnancy for the rest of the season."
"You'll see Temperance going through a whole thing where she doesn't really kind of accept her pregnancy for a period of time," added Deschanel.
Though she admitted she has not yet read the script for the season 10 finale, it looks like twin babies may be a possibility on the show.
"There's not anything big medically that's a huge problem; it's more the emotional repercussions and the realization of her having another child coupled with the special agent's relapse in to gambling that makes things complicated.. but nothing real major like that like she's on bed rest or like she's having many babies ... that we know of yet," she concluded.