Boston Dynamics has officially unveiled its new 6.5-foot tall, "nightmare-inducing" wheeled robot named Handle that can travel at 9 mph and can jump up to 4 feet vertically. The Alphabet-owned robotics company showed off its latest creation's athletic capabilities in a short video.
Earlier this month, venture capitalist Steve Jurvetson uploaded footage of Handle in action from a company presentation to investors.
According to Boston Dynamics, the research robot "uses electric power to operate both electric and hydraulic actuators, with a range of about 15 miles on one battery charge".
"Handle uses many of the same dynamics, balance and mobile manipulation principles founded in the quadruped and biped robots we build, but with only about 10 actuated joints, it is significantly less complex," the video's description reads.
"Wheels are efficient on flat surfaces while legs can go almost anywhere: by combining wheels and legs Handle can have the best of both worlds."
The new minute and a half long video shows Handle, which rolls on two wheels, zipping its way across the Boston Dynamics' lab space, spinning in place, squatting to lift a 100lb load and swiftly rolling outside down the stairs and across a snow-covered hill.
The footage also features Handle riding up a ramp on one leg, hopping and rolling across a long table, and pulling off some impressive leaps.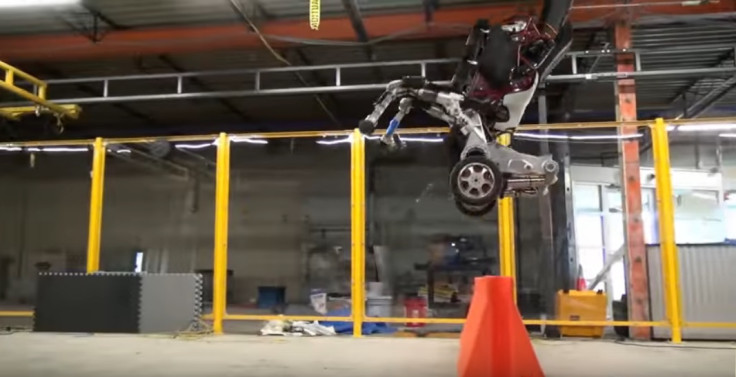 Boston Dynamics founder Marc Raibert said Handle, so-named because it is supposed to handle objects eventually, is much more efficient than a simple legged robot.
"This is the debut presentation of what I think will be a nightmare-inducing robot if you're anything like me," Raibert told investors in the clip earlier this month. "This is an experiment in combining wheels with legs with a very dynamic system that is balancing itself all the time and has a lot of knowledge of how to throw its weight, which it uses to stabilise itself.
"It can carry a reasonably heavy load on a small footprint and it's basically an exercise in seeing if we can do something like the humanoid that has less degrees of freedom, but eventually could be less expensive but still have significant capability."
Bloomberg reported in March 2016 that Google's parent company Alphabet was putting its subsidiary Boston Dynamics up for sale after concluding it wasn't "likely to produce a marketable product in the next few years". However, there has been no official word on a deal yet.