When former Boston Dynamics employees released video of humanoid robot Atlas – walking unassisted over difficult terrain, such as rocks and snow – Google was reportedly displeased; despite the research receiving high praise from roboticists while wowing the public.
And the real reason Google is selling off Boston Dynamics is, by and large, due to insiders telling Tech Insider that the robotics firm was unwilling to fall in line with the internet giant's vision of a consumer robot for the home.
Google reportedly envisioned the firm as one of nine in a division called Replicant. Initially, under the guidance of Android co-founder Andy Rubin, the firms would continue with existing research and Google would see what ideas and innovations they came up with.
In October 2014 Rubin left the company, and by early 2015 – for the first time – Boston Dynamics' roboticists saw Google put the pressure on and try to direct the research towards a commercial product.
"That's when we first started seeing Google... actually trying to have leadership structure over all those robotic groups," a former employee said. "Where they're saying, 'Okay, what do you do? Are you mobility, are you vision?' .... and grouping them and directing them toward a commercial product space."
Why Boston Dynamics didn't want to go commercial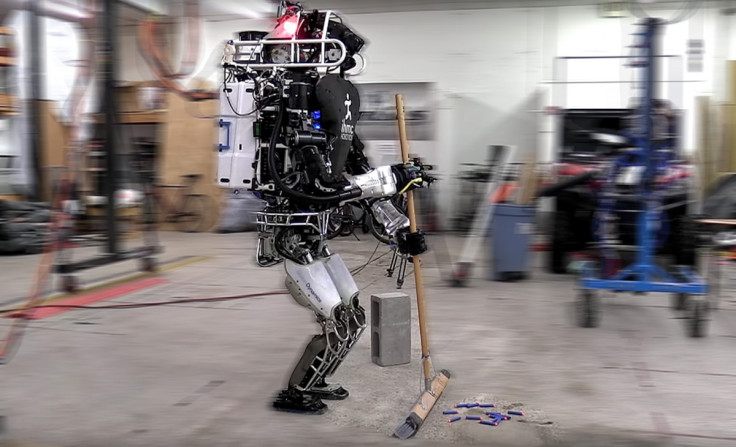 When Google started to shepherd Boston Dynamics' roboticists towards creating a machine that helped out around the home and asked them to switch to electronics instead of hydraulics to make the robots quieter, many of the employees were unhappy. They started to resist pressure from Google to build a consumer product, and instead pursued their own research.
"I felt like the response in the Boston office was to put a higher wall up and protect their entity, rather than provide leadership out in California," another former employee said. "At the end of day what I saw was a sense of us and them instead of a we — we weren't part of Google; we were sort of a separate thing."
According to Bloomberg, internal emails show Google feared the general public to be unreceptive to the teaming of the powerful Atlas humanoid with Google's impressive AI technologies – that perhaps it would associate the robot with the terrifying Skynet robots in Terminator.
According to meeting minutes from November 2015, founder Marc Raibert – who still runs the company – argued that the best way to wind up with a good consumer product was for Google to allow the firm to research the way it had always done.
And it seems that this attitude, together with Boston Dynamics' steadfastness, inspired Google to lose patience. Perhaps aware of the impending fallout, the former tried to appease the internet giant with a video in January which showed Atlas sweeping the floor and stacking boxes.
Fast forward to 2016, and it looks likely that Boston Dynamics will be sold to Toyota Research Institute which, according to Nikkei, has welcomed several Google and Boston Dynamics veterans into its fold. Toyota might also take the Japanese robotics firm Schaft – which also recently announced a bipedal robot that can handle rough terrain – off Google's hands.
Google has refused to comment on this story.
The rise of Boston Dynamics
Boston Dynamics was founded by Marc Raibert, a former Carnegie Mellon University (CMU) and MIT professor who founded the CMU Leg Lab for the research of legged robots in 1980, moving it to MIT in 1986. In 1992, Boston Dynamics was spun off from the lab.
The firm continued in its efforts to develop legged robots, such as the quadrupedal robot BigDog, its successor LS3, the four-footed robot Cheetah, the small quadruped robot LittleDog, the six-legged vertical climber robot RiSE and the much-lauded bipedal humanoid robot Atlas. The latter is shown in viral videos to navigate tough terrain, stack boxes and right itself when kicked or pushed.
Since 2005, Boston Dynamics received a lot of funding from Darpa as the US government agency was hoping for a robotic pack mule that could aid soldiers covering terrain too rough for vehicles to traverse. To this end Boston Dynamics developed BigDog and LS3 but, despite extensive and expensive trials with the military, both robots have been retired due to concerns about noise and repair issues.
Despite the firm's inventions clearly requiring a long research life cycle and extensive trials, in December 2013, Boston Dynamics was acquired by Google X Labs, Google's top secret department devoted to experimental technologies.