Alphabet-owned Boston Dynamics has shown off a brand new "nightmare inducing" robot named Handle - a wheeled, upright creation that can do squats, leap over obstacles and carry heavy loads among other tasks.
The robotics firm teased its newest robot during a presentation to investors, footage of which was later uploaded to YouTube by venture capitalist Steve Jurvetson.
"Everybody thinks we only do legged robots, so no one has seen this. You guys are the first," Boston Dynamics founder Marc Raibert said after recapping some of its earlier robots including Spot and Atlas. "This is the debut presentation of what I think will be a nightmare-inducing robot if you're anything like me.
"This is an experiment in combining wheels with legs with a very dynamic system that is balancing itself all the time and has a lot of knowledge of how to throw its weight, which it uses to stabilize itself. Here we're just testing out the various capabilities," Raibert said.
He also added that Handle is much more efficient than a legged robot.
"It can carry a reasonably heavy load on a small footprint and it's basically an exercise in seeing if we can do something like the humanoid that has less degrees of freedom, but eventually could be less expensive but still have significant capability," he said.
The robot, which is named Handle because it eventually will handle objects, rolls on two wheels and has a torso and limbs similar to the two-legged Atlas bot.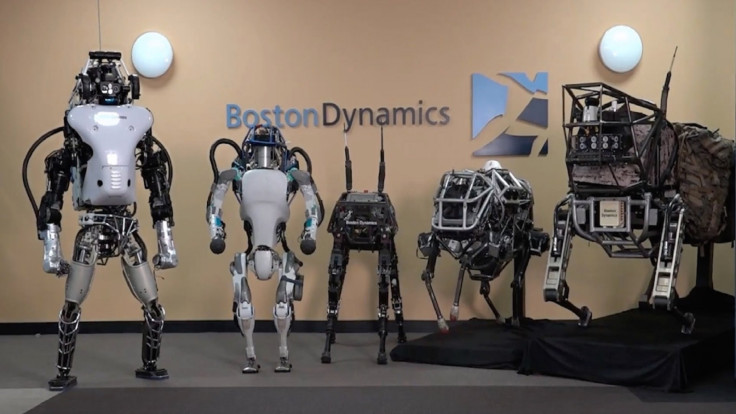 The footage features Handle showing off a few tricks, including fast spins in place, squats, making its way across grass, racing up to an obstacle and jumping over it.
Last year, Bloomberg reported that Google's parent company Alphabet, which purchased Boston Dynamics in late 2013, was prepping to put it up for sale after concluding that it wasn't likely to produce a marketable produce within the next few years.
After Boston Dynamics posted a video of Atlas trudging through the snow and even getting back up after getting kicked, Google was reportedly not happy about it, despite impressing robotics experts and going viral online.
So far, there has been no word or official announcement regarding a possible deal.