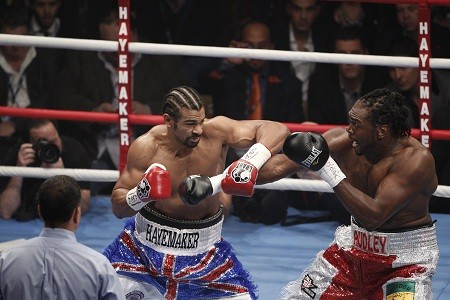 Former Olympic champion Audley Harrison will fight David Price for the British and Commonwealth heavyweight titles in October, almost two years since his last title bout ended in humiliation at the hands of David Haye.
Harrison, 40, has fought just once since his fight with Haye in November 2010, which was stopped in the third round - with Harrison landing only one punch in the entire contest.
Harrison took a break from boxing following his defeat by Haye, and appeared in the 2011 series of Strictly Come Dancing. Many pundits predicted he would never return to the ring.
However, following a low-key comeback against Ali Adams in May, Harrison announced his intention to continue boxing professionally. Speaking after the Adams fight, he said:
"I know after the Haye fight people didn't expect to see me anywhere near a ring again, but I really enjoyed myself [against Adams]. It took strength of character and belief in myself to not throw in the towel and call it a day.
"I proved to myself I still want to be a prizefighter."
Harrison will fight Price at the Liverpool Echo Arena on 13 October, in a match which pits two Olympic medal holders against one another.
While Harrison claimed gold in the Sydney games in 2000, Price won bronze at Beijing in 2008, and has yet to be beaten since turning professional.
Price was quick to praise Harrison as a boxing role model - but added that he is confident of victory when they meet.
"Audley was an inspiration to me when I was younger, someone our amateur squad always looked up to," said Price.
"He called me before Beijing to offer advice, which I'm grateful for - but he's still getting flattened."