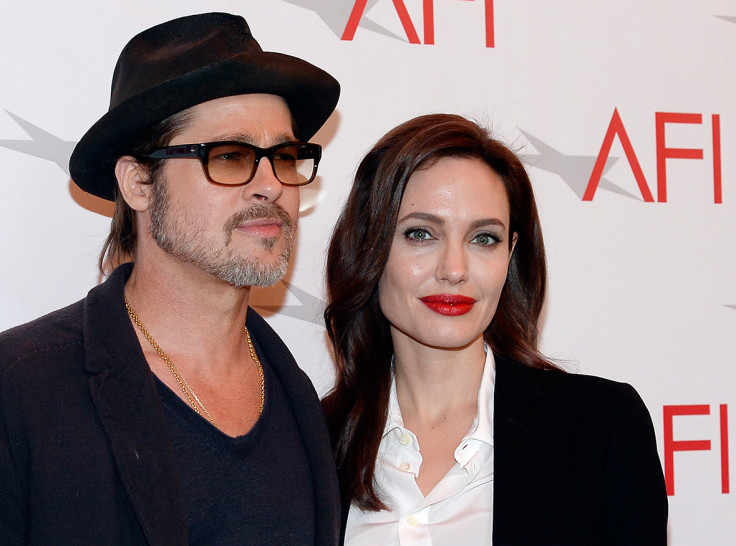 It was business as usual for Brad Pitt on Tuesday (10 November) when he emerged from a self-imposed hibernation to attend the private screening of self-produced movie Moonlight in Los Angeles. The Hollywood actor had been keeping a low profile ever since news broke of his imminent divorce from Angelina Jolie.
He was spotted hours after a rep confirmed in a statement that the couple have reached a legal agreement about the custody of their six children, suggesting their divorce is one step closer to being finalised.
For those still mourning the demise of 'Brangelina' – a brand moniker first coined by People magazine in 2005 during the early days of their courtship – one thing that may be hard to stomach is they may be more valuable apart.
According to industry experts, while the power that they exuded as Brangelina was undeniable, it created an illusion that was not real – duly making them a pop-culture enigma. Unlike social media-savvy Kimye, they became unrelatable.
According to Judi James, a body language specialist and psychologist, despite the media's best efforts to airbrush their past and turn a complex and fascinating wild child and recent divorcee into over-idealised Hollywood royalty, what it boils down to is that Brangelina was always a gimmick that couldn't stand the test of time. She says the silver lining is that interest in them as individuals will now skyrocket.
"Any changes and gossipy insights could actually enhance rather than devalue their individual profiles," she explains.
"This is clearly no cleverly orchestrated 'conscious uncoupling' in the style of Gwyneth and Chris. And although it has to be hoped that they will grin and mask it for the sake of the children, why shouldn't a bit of Katie and Peter Andre 'let it all hang out' emotions slip into the lives of this uber-A-list duo?"
In an age of selfies and sex tapes, Brangelina rebranded themselves into something worthy and intellectual but does worthy always mean good box office? The modern fan will prefer to pay to see celebs known for their scandals and dramas, people we can identify with or even sometimes feel morally superior to. Brangelina became a bit like William and Kate: nice to look at but no good for rubber-necking or gossiping about.
And although Oscar-winner Nicole Kidman went through a dark times following her divorce from Tom Cruise, her career went from strength to strength in the wake of their split. In 2015 she admitted that focusing on her career helped her get over her heartbreak. "Out of my divorce came work that was applauded so that was an interesting thing for me," she said at the Women In The World conference (WITW) "that culminated in winning an Oscar."
Dr Carlyle Rogers, legal expert at Marriage.com, told IBTimes UK that both have the potential to prevail in their careers and finances independently. According to Celebrity Net Worth, the Lara Croft actress is worth an estimated £122m while Pitt is believed to have a healthy nest egg of around £184m.
He said: "Assuming nominal financial consequences when the dust settles from the divorce, I believe that Brad and Angelina both still possess excellent career and earnings potential."
Misha Sher, Head of Sport & Entertainment at Mediacom, believes there will be immense interest in what's next for the actors, noting that the two personalities were defined by being in a couple.
He adds that their working relationship wasn't permanent – their 2015 romantic drama film, By the Sea, was only the second time she had helmed a big-screen movie and the first time she had directed her husband. "They will continue to attract as much if not more attention now because of their individual strengths and appeal."