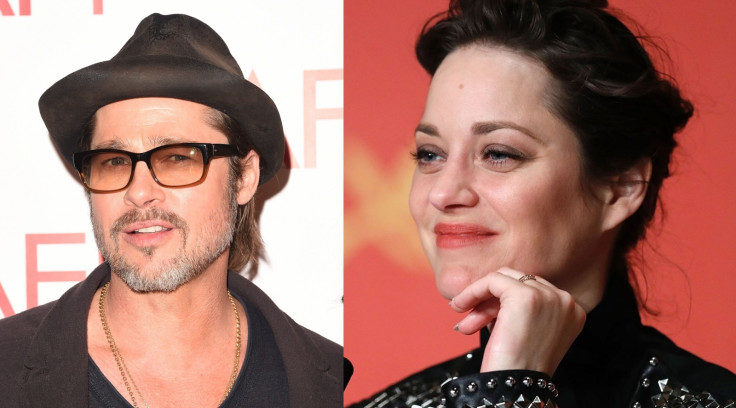 Brad Pitt and his on-screen lover Marion Cotillard got up close and personal in the new poster of their upcoming World War II romantic drama, Allied. The stunning one-sheet that features the actors leaning in for a kiss against a solid black background was released by Paramount a month ahead of its November 23 release.
In the gorgeous poster, Pitt and Cotillard's chemistry brings to life their characters, Max Vatan and Marianne Beausejour. The two spies fall in love with each other in the movie.
While the 52-year-old actor cuts a debonair figure in a tuxedo, his on-screen lady love revives the 1940s inspired gowns with her pale green Joanna Johnston-styled costume on the poster.
Directed by Robert Zemeckis, the romantic mystery revolves around a Canadian Intelligence officer Max (Pitt) and his French wife Marianne (Cotillard), who was a resistance fighter. Following a steamy romance during a North African mission, things begin to complicate between the two when the war breaks out.
Although Pitt and Cotillard's characters are reunited by a wedding ceremony in London, their relationship appears to be strained, especially when Marianne is suspected to be a Nazi spy. Allied's plot intensifies further when Max gets suspicious of his wife's loyalty.
Apart from the intense plot and timeline, the WWII drama also grabbed eyeballs because of the alleged affair between the World War Z actor and his 41-year-old co-star. Gossip reports even speculated that the alleged romance was responsible for the much-publicised divorce of Pitt from his wife Angelina Jolie.
However, Cotillard put all the rumours to rest with her Instagram post, where she even wished her Allied co-star and Jolie well as they go through the hard times.
"I am not used to commenting on things like this nor taking them seriously but as this situation is spiraling and affecting people I love, I have to speak up," she said adding, "I do very much wish that Angelina and Brad, both of whom I deeply respect, will find peace in this very tumultuous moment. With all my love, Marion."
Watch the trailer for Allied here: