Police in Bradford have arrested three 13-year-old boys after footage of a 12-year-old being viciously assaulted was posted on Facebook.
In the video, the young boy sobs as he is held down in an alleyway in broad daylight as two older boys punch him in the face.
The terrified boy manages to struggle free and bangs frantically on the back window of a nearby house but one of the youths then drags him into the garden and subjects him to an even more vicious beating, kicking him repeatedly in the head, before one finally tells him to stop.
West Yorkshire Police released a statement on its website which said: "Police have this afternoon arrested three 13-year-old boys on suspicion of assault following a video which was shared on social media sites earlier today. The boys, who are from the Heaton area of Bradford, remain in custody at this time.
"Police have also spoken to the family of the 12-year-old victim, who have confirmed he is safe and well. Enquiries into this matter are continuing."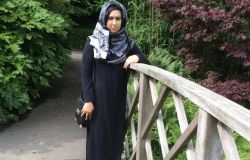 The video has been viewed on Facebook over 100,000 times, having reportedly been re-posted by the English Defence League because the victim appears to be white and his assailants Asian. It is unclear if there was a racist or religious element to the assault.
Detective Chief Inspector Terry Long, of Bradford District Police, said: "I would like to thank the public for bringing this incident to our attention, and would like to reassure them that any similar reports will be dealt with positively."
The incident comes during a difficult few weeks for the West Yorkshire city. Last week three women took their nine children to Syria. Earlier a schoolboy was arrested for stabbing a teacher at school.
Also in Bradford, 24-year-old pregnant woman Nadia Khan was murdered. Tariq Khan, 26, has been charged with murder and child destruction.
Meanwhile, 17-year-old Talha Asmal from nearby Dewsbury became Britain's youngest suicide bomber when he joined an Isis attack on an oil refinery in Iraq.