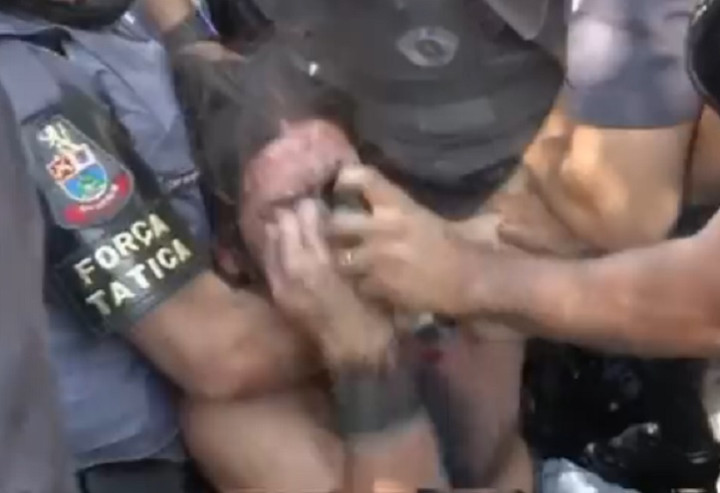 The ugly side of the Brazil World Cup was on full display only hours before the tournament kicks off, with police using brutal tactics to suppress protests and a foreign TV boss suffering a broken arm during violence.
Graphic footage shot in the city of São Paolo showed a gang of police officers grappling with a topless man, who was protesting about the amount of $11.3bn public money spent by the government on funding FIFA's football extravaganza.
The pictures showed a canister of pepper spray being thrust toward his face before the debilitating liquid was squirted in to his eyes from close range. He was then forcibly removed from the scene by a gang of officers.
Elsewhere, a TV producer for CNN suffered a broken arm during the same protest. São Paulo producer Barbara Arvanitidis was pictured with her arm in a sling being led away from disturbances.
Elsewhere, another CNN reporter was injured by a flying gas canister fired from the direction of police lines.
The images of violent disorder constitute a PR nightmare for FIFA dignitaries such as Sepp Blatter and the Brazilian authorities, who are both desperate for the feast of football to drown out pressing questions about corruption at the heart of football's ruling body and social inequality in Brazil.
Riot police wielding truncheons and shields attacked people in a bid to protect FIFA's signature event from popular protests.
Parts of São Paolo were shut down by the authorities earlier today in order to allow FIFA VIPs and others to get to the stadium where Brazil and Croatia are set to play the opening game of the competition.
Brazil has spent £498m on security for the 2014 World Cup – more than five times the amount South Africa spent on security for the last World Cup. Over 170,000 security officers will be available to patrol the 12 stadiums hosting the World Cup. Helicopters, drones, and surveillance equipment will also be used.
The Brazilian government has vowed "the World Cup in Brazil will be the safest ever" and looks ready to deploy significant force to protect the competition.