Syria: France launches air strikes against Isis in Raqqa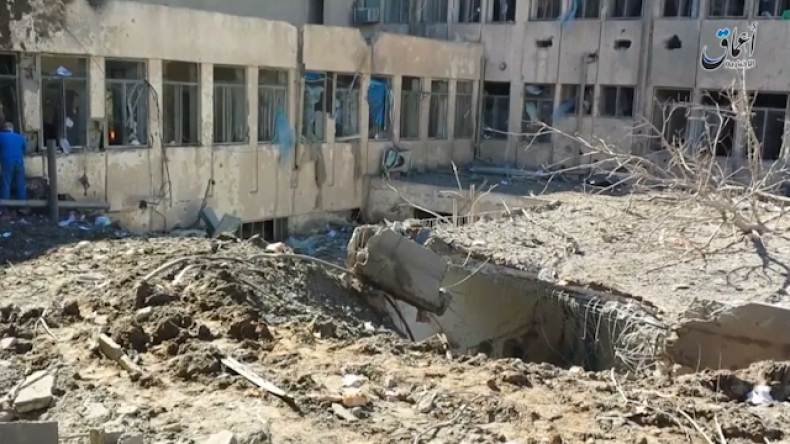 France has launched a series of 'massive' air strikes against Islamic State (Isis) in Raqqa, Syria, destroying a key IS command centre and training camp. 10 French fighter jets dropped 20 bombs on the IS stronghold.
The French Defence Ministry announced a 'major bombardment of Isis targets' in Raqqa. The aerial strikes have targeted a command centre, an IS recruitment centre for jihadists, a training camp for fighters and an arms depot run by the terrorist group.
"The raid ... including 10 fighter jets, was launched simultaneously from the United Arab Emirates and Jordan. Twenty bombs were dropped. The first target destroyed was used by Daesh (another term for IS) as a command post, jihadist recruitment centre and arms and munitions depot. The second held a terrorist training camp," the statement read.
A total of 30 targets were reportedly hit in the air strike. Video of the French fighter jets taking off to carry out the air strikes has been released by the French Armed Forces.
According to both a pro-ISIS news agency and the activist group Raqqa is Being Slaughtered Silently, there were at least 20 airstrikes on the city in the space of one hour on Sunday 15 November. A spokesman described it as a "massive" attack and France's biggest assault in Syria to date.
Raqqa is Being Slaughtered Silently also reports that there have been "no civilian injuries" as a result of the air strikes, but there is 'wide spread panic' in the city. The group said that water and electricity supplies were cut off during the air strikes. The explosions could be heard in EynEssa city north of Raqqa.
It is reported that the strikes were conducted after the US shared intelligence with France. Sky News reports that the airstrikes are "not carpet-bombing raids, but precision-guided operations that had been well planned in advance."
The air strikes come two days after Paris suffered a wave of coordinated attacks, which left 129 dead and hundreds more seriously injured. President Hollande had vowed to 'destroy' Islamic State following Friday's attacks.
News of the French airstrikes comes as world leaders pledged to renew their fight against the terrorist group. Earlier on Sunday, (15 November) leaders of the world's 20 major economies at the G20 summit, pledged a renewed fight against IS. The summit in Antalya brings Obama and fellow world leaders just 500km from Syria.
President of host country Turkey, Recep Tayyip Erdogan, urged world leaders to prioritise the battle against ISIL, saying Friday's assaults in Paris proved that the time for words was now over.
"We are confronted with a collective terrorism activity around the world. As you know, terrorism does not recognise any religion, any race, any nation, or any country," Erdogan said.
US President Barack Obama, meanwhile, affirmed Washington's support for Paris in the wake of the attacks, saying: "We stand in solidarity with them [France] in hunting down the perpetrators of this crime and bringing them to justice."
He pledged to "redouble" US efforts to eliminate ISIL, but offered no details about what the US or its coalition partners might do to step up its assault against the group.
IS also claimed responsibility for a bombing in Beirut, Lebanon that killed at least 43 people on Thursday (12 November).