Boston Marathon bomber Dzhokhar Tsarnaev was sentenced to death for his role in the 2013 Boston Marathon boming.
Closing arguments for the penalty phase were made on 13 May, when prosecutors attempted to convince the jury to sentence Tsarnaev to death. As previously reported by IBTimes UK, prosecutors argued that Tsarnaev was a depraved killer who had not showed any remorse for his actions.
"No remorse, no apology," Assistant US Attorney Steve Mellin told the jury. "Those are the words of a terrorist convinced he has done the right thing. He felt justified in killing, maiming and seriously injuring innocent men, women and children"
Meanwhile, Tsarnaev's defence team stressed that Tsarnaev would not have committed the bombings if it were not for his older brother. "Jahar would have never have done this but for Tamerlan," his attorney Judy Clarke said. "Jahar became convinced of the fallacy of the case of his brother's passion."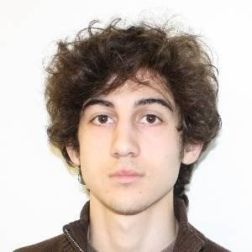 The 21-year-old was found guilty of 30 federal charges last month for his role in the 2013 Boston Marathon bombings that killed three and injured over 260. Tsarnaev, and his now deceased older brother Tamerlan Tsarnaev, used two pressure-cooker bombs during the attacks.
The Tsarnaev brothers also killed a fourth person, MIT police officer Sean Collier. Seventeen of the 30 charges Tsarnaev was found guilty in carry the death penalty. In order for him to receive the death penalty, all 12 jurors must agree unanimously.
The verdict will be read in court when it reconvenes at 3pm EST.
Verdicts are in
The jury found that Tsarnaev intentionally killed victims in counts 1, 4, 5, 6, 9, 10, 14 and 15. They also found that #Tsarnaev intentionally inflicted serious damage resulting in death in counts 1, 4, 5, 6, 9, 10, 14 and 15.
According to WBUR Live, jurors found Tsarnaev took action contemplating lethal force might occur and intentionally engaged in violence knowing it created grave risk of death in all counts.
Tsarnaev knowingly created a grave risk of death to multiple people in counts 1, 4, 5, 6, 9, 10, 14, 15, 16, 17 and 18, the jury found. He also committed crime in heinous, depraved and cruel manner in counts 1, 4, 5, 6, 9, 10, 14 and 15.
WBUR Live reported that factors proved that Tsarnaev's guilty of planning and premeditation in terrorism for all applicable counts. Tsarnaev intentionally killed and intended to kill multiple people in a single episode in all applicable capital counts, the jury said.
The 21-year-old was found responsible for the death's Martin Richard and Sean Collier.
In a surprising turn, the jury did not find that Tsarnaev suggested others should commit crimes and terrorism against the US.
Jury said yes to all applicable counts that Tsarnaev caused injury, harm and loss to all four victims and their friends and families, that he intentionally targeted the Boston Marathon, that he demonstrated lack of remorse and that he committed additional uncharged violent crimes.