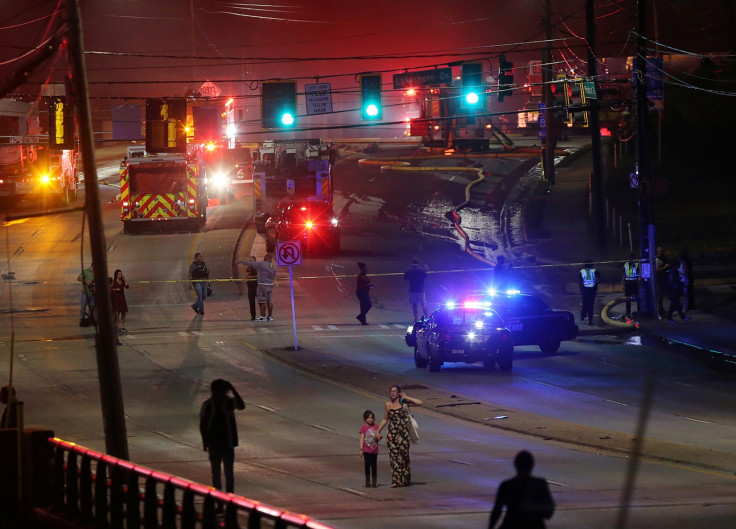 A massive fire on Interstate 85 in Atlanta, Georgia was extinguished on Thursday (30 March) night after burning for more than an hour and prompting an elevated section of the interstate to collapse, officials said. There were no reports of injuries to motorists or first responders.
Atlanta Fire Department spokesman Sergeant Cortez Stafford said the bridge on I-85 northbound just south of Georgia 400 near Piedmont Road collapsed around 7pm (12am BST). "We do have the fire under control," he said, according to The Atlanta Journal-Constitution.
Stafford told reporters that a unit was returning from another fire when it spotted heavy smoke coming from under I-85. "There was a 40ft, or higher, wall of fire. Power lines were falling and arching heavily and falling in the streets," he told CNN.
Georgia Governor Nathan Deal announced that Georgia Department of Transportation inspectors are on the scene. Authorities have contacted the company that built the bridge to review the schematics and determine how long it will take to repair, the Journal-Constitution reported.
Deal said the cause of the fire was unknown, but added that "the speculation I've heard is that there are some PVC products that caught fire". The governor confirmed that there were no casualties reported in the bridge collapse.
Terrorism not suspected
Georgia State Patrol Captain Mark Perry told reporters that authorities do not suspect terrorism, but the cause of the fire remains unknown. Perry said that they first believed that a vehicle was burning but later said it could have been something else.
Commuters are urged to use MARTA trains to travel to and from Atlanta. Spokesman Eric Burton said MARTA trains are running as normal and are not affected by the blaze. "MARTA seems like your best bet to get out of the city," he said.
MARTA officials said that some bus routes have, however, been affected. The city's rail and bus system said that it would offer an extended service through the weekend.
Atlanta Police Department spokeswoman Officer Stephanie Brown told Channel 2 Action News that law enforcement is working to establish a traffic plan for the Friday (31 March) commute. Officials said that all five lanes of the highway in each direction were blocked and will be closed for the foreseeable future, CNN reports.
Georgia Department of Transportation spokeswoman Natalie Dale said transportation inspectors are waiting to inspect the freeway and authorities are trying to come up with a detour plan for commuters.
"We will be up all night and into the morning," Dale said. According to CNN, a state highway with just two lanes runs next to that section of the interstate.