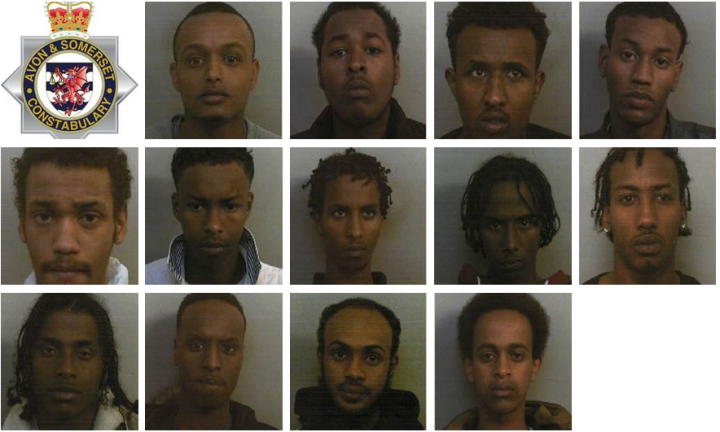 Thirteen Somali men have been convicted of more than 40 child sex crimes in a shocking case in Bristol.
The paedophiles preyed on 10 victims in the south-west city and carried out a string of child exploitation offences, including rape and child prostitution.
All the offenders were young men under the age of 25 and had nicknames including Trigger, Sniper and Left Eye.
The drug-taking gang pimped their child victims out for sex as well as carrying out sexual abuse themselves.
Coverage of two trials for the crimes was embargoed under restrictions which have only now been lifted.
Police have condemned the Somali gang's crimes as "abhorrent."
The gang's abuse was exposed last year, when a police officer found one of the victims cowering inside a cupboard at a house used by the abusers, in the Easton area of the city.
Police Ch Supt Julian Moss, said: "This investigation began after one of our officers was called to a property in the Easton area of Bristol in spring 2013.
"He was faced with aggressive and evasive behaviour from people within the property, but he refused to be deterred and as a result of his professional curiosity he found one of the victims hiding in a cupboard."
Moss hailed co-operation by members of Bristol's Somali community for helping bring the men to justice.
"Their co-operation has been invaluable and we want to continue building on the positive relationships we've developed over several years."
A serious case review has been mounted by children's safeguarding experts as a result. A report is expected next year.
Sharon Copsey, NSPCC head of service for the south west, said: "It has become abundantly clear in recent times that child sexual exploitation is a widespread and growing problem which threatens communities across the UK. It is not an isolated phenomenon that affects just a few areas."
Childline is available to help victims of sex abuse. Call 0800 1111.