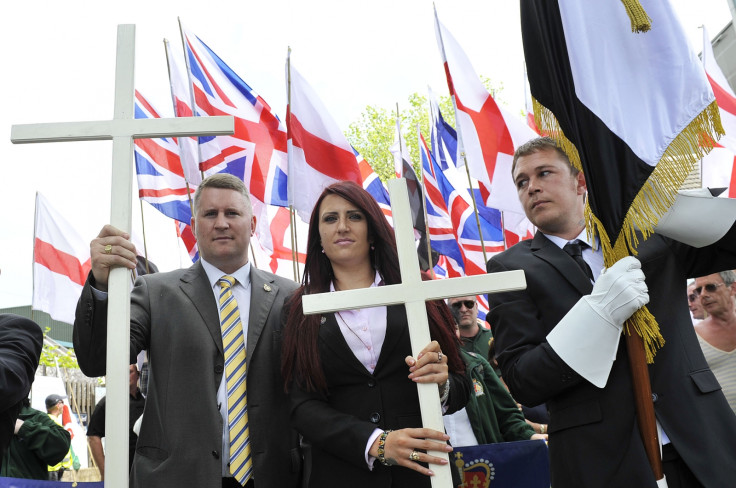 Police are investigating whether the leader of far-right party Britain First broke a High Court injunction after an incident at a mosque in Wales.
The anti-Islam group posted a video on its Facebook page showing its activists enter the Al-Manar Islamic Centre in Cardiff on 20 August during one of its latest so-called "mosque invasions".
They were seen grilling the centre's members over allegations, printed in a national newspaper the previous month, that the mosque's Imam, Ali Hammuda, was a "radical" preacher.
Hammuda, and those at the mosque, strenuously deny the accusation, while the Muslim Council of Wales branded the newspaper report "misleading" and described Al-Manar mosque as "a vocal and committed partner in both countering the ideology of the so-called 'Islamic State', and the social factors that lead to radicalisation".
Bedfordshire Police confirmed it was now investigating whether the incident violated an injunction it secured against the party's leaders only a week before.
It banned Britain First leader Paul Golding, 34, and deputy leader Jayda Fransen, 30, from entering, or encouraging their activists to enter, any mosque in England and Wales for the next three years.
This came after the police force argued the party, set up by former members of the British National Party (BNP), had caused "community tensions" with its so-called Christian patrols and mosque invasions.
While neither Golding nor Fransen were featured in the group's video in Cardiff, Golding confirmed to IBTimes UK he had travelled with Britain First members to Al-Manar mosque.
He said he "stood outside" the building as his fellow party members went inside, and that he was under the impression the High Court order did not stop him from encouraging his activists to carry out so-called mosque invasions, but simply banned him from entering a mosque. He said he had "checked with our solicitors".
Text alongside the Britain First video, posted onto Golding's Facebook page and viewed more than 140,000 times, vowed the group "will enter any mosque and confront any imams preaching extremism" in the future.
Violating the terms of the injunction – shown in full below – could result in a fine or imprisonment under contempt of court laws. Bedfordshire Police said it was still investigating the incident and that no arrests had been made.
South Wales Police said it was also investigating a complaint from Al-Manar Islamic Centre.