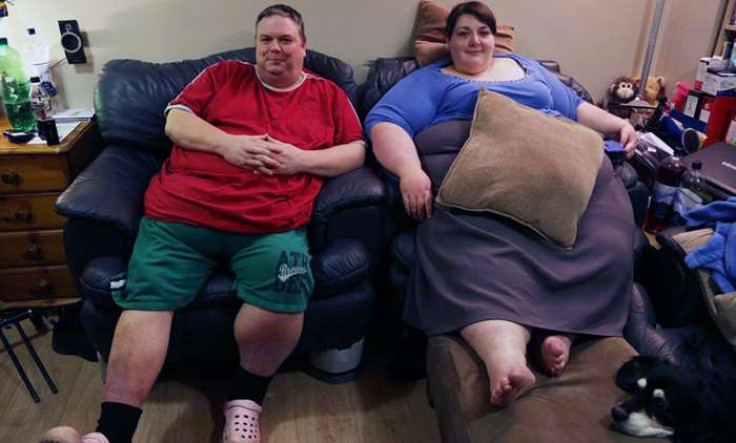 By her early 30s, Sharon Hill weighed 48 stone. Tonight, she is the star of Channel 4 documentary, Shut-Ins: Britain's Fattest Woman.
It sounds like a brutal show title, but Ms Hill was given the opportunity to turn her life around by undergoing bariatric surgery – which was featured in the 2015 documentary operation Shut-Ins: Britain's Fattest People.
The cameras will return to see how she's got on and if she has managed to keep the weight off – but it slowly emerges that she has been putting on the pounds again.
Hill was able to lose weight with two rounds of surgery – her first a gastric sleeve which helped her lose 10 stone, while a mini gastric bypass helped her lose another eight after she put some weight back on.
The once housebound woman from Gloucestershire admitted to consuming tens of thousands of calories a day – so viewers will tune in to see if she's ditched the junk food for healthier snacks two years later.
Since her surgeries, Hill lost over a third of her weight after her doctor told her it was make or break time – she currently weighs 30 stone.
Hill – who has been happily married to husband Andrew since 2012 – said: "I've never wanted to be thin because I don't know what that's like, I just want to be smaller than what I am so I can live more."
After being mercilessly bullied throughout school, Hill coped with the pain of being taunted by binge-eating junk food, a habit which seeped into her adult years. Her emotional eating lead her to weigh a life-threatening 48 stone.
She wrote in a personal blog post today: "I do not and would never blame the NHS for the size I got to, I do how ever think things could of been done a lot differently, especially when I was younger. But how can I blame something that helps so many people."
Hill also said: "Looking back on my life I can see I have always turned to food, it has been my source of comfort when I had no one, my friend and my enemy, still to this day I have a love hate relationship with food. Just as with other addictions I crave sugar morning, noon and night."
"I am always wanting something sweet. It is a not only a daily problem but every second of my life I have to say to myself you do not need that."
Despite dropping 18 stone since surgery and now able to get about on her own, she admitted that her weight has plateaued and she is "stuck around the 30st mark". She is a dress size 26/28 and is hoping to lose another 18 stone.
She'll speak about the impact of constant name-calling and bullying into her adult years has on her and how strangers shout insults such as "you disgust me" and "why don't you die" despite her losing weight.
She says: "People think that if they tell me I'm disgusting, I'll go home and look in the mirror and suddenly think: 'Oh yes, gosh, I must stop eating.' Don't they see? The unhappier I am, the more I eat."
Shut-Ins: Britain's Fattest Woman airs tonight at 9pm on Channel 4.