The British Army is celebrating London Pride by issuing rainbow coloured war paint, or "camo cream", to revellers at this weekend's parade (8-9 June).
This year's London Pride coincides with the launch of an Army campaign that reinforces the military's commitment to sexual and gender equality.
Some 61 British soldiers will be marching among the kaleidoscopic gala, alongside drag acts and LGBT activists from around the world.
"We wanted to reflect the participation of so many of our personnel this weekend and demonstrate the diversity we encourage in the Armed Forces," said Sergeant Guy Lowe-Barrow, Secretary of Army LGBT Forum.
"We're proud to be recognised as a top LGBT employer and this campaign is built on a belief that diversity makes us stronger and more effective," he added.
Openly gay soldiers have only been able to serve in the Army since 2000 but the institution is now recognised as a Top 100 Stonewall Employer for diversity.
This year's parade also marks 50 years since the decriminalisation of homosexuality in the UK.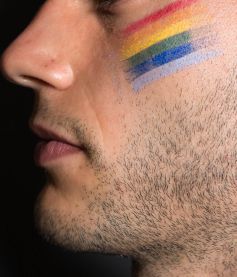 The LGBT-focused promotion is the latest strand in the Army's 'This is belonging' campaign, a recruitment drive that focuses on the sense of camaraderie enjoyed by those who choose to serve.
"Camo cream is all about hiding and blending in, but this is a time for standing out and standing proud," Adam Kean, Executive Creative Director at Karmarama who developed the campaign.
"We're handing out over a thousand rainbow camo creams at the parade, and creating an advertising campaign to support this," he added.
Footage of a police officer proposing to his partner at London Pride 2016 went viral. However, PC Phil Adlem recently expressed his regret over the public gesture, which he says has resulted in a slew of online hate messages and threats.
In March, a South Korean Army captain was jailed for six months for allegedly having sex with a male officer.