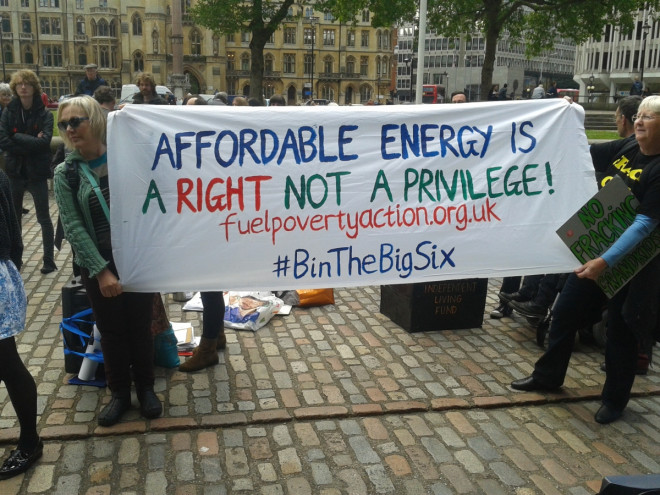 Protest groups have picketed the British Gas AGM at the QE2 Conference Centre in Westminster to demonstrate against rising energy prices.
More than 50 environmentalists and campaigners fighting energy poverty launched a noise protest outside the meeting hall by banging pots and pans.
Protesters under the name Bin British Gas: Put Power in Public Hands, accused the Big six energy giant of putting profits before customers. One in five households were in debt to their supplier, the campaigners said.
British Gas customers were hit by a 10% gas price hike and an 8.4% electricity price rise in November. Their anger increased exacerbated when Centrica, the parent company, posted profits of over £600m for the year.
Claire Welton, a member of Fuel Poverty who organised Bin British Gas, said: "It's an opportunity to draw attention to fuel poverty and energy profits, for people who are struggling to pay their bills."
Despite Centrica's promise of a price freeze this year, Welton said: "In the winter of 2012/13, 10,000 people died of fuel poverty. Freezing [prices] is okay but for the one in five households are already in debt, the price freeze doesn't go far enough."
Peter Dean of Biofuelwatch, which works to raise awareness of the negative impacts of industrial biofuels and bioenergy, said that under the current system, the poor pay more than the wealthy.
Dean said: "The structure for payment proposition is that you pay more for low consumption than you do for high consumption. There's all sorts of concession for businesses etc. So from the proportion of income, the poor are paying more for electricity provision."