British holidaymakers are still flocking to Tunisia despite the recent terrorist attack in which 38 people were murdered, the UK's largest travel association said.
"Many believe that they are not going to let terrorists change the way they live," Sean Tipton from ABTA told IBTimes UK on Wednesday (8 July).
ABTA, which represents members including Thomson and Thomas Cook, offered Britons the choice to amend or cancel their travel plans to the country following the Sousse attack, which left 30 British tourists dead, on 26 June.
But Tipton said there was no notable dip in cancellations, with the country remaining popular with last-minute holidaymakers.
"I'm not surprised about it. There are those who don't believe it is now appropriate to go but there are those who don't want the terrorists to change how they live their lives and there are people who go there year after year, and will not be off for that reason," he said.
Similarly, according to ABTA, UK tourists are not deterred from travelling to Greece, bookings are up 2% from last year. At least two million people are expected to travel to the country this year despite the fragile economic situation.
"We are expecting 1.3m more visitors than last year. It's doing really well," Tipton said.
ABTA only received two calls from members of the public who did not want to travel there.
"This gives an indication about how the public feel about it," he added.
ABTA has issued advice, however, to travellers to take enough euros to Greece after mixed reports surfaced on availability of cash from ATMs.
On its website a statement read: "Reports from our members and holidaymakers on the ground suggest that it is business as usual in the Greek resorts with bars, shops and restaurants adequately supplied and open as usual.
"We do not anticipate that tour operators will need to rebook their customers to a different destination.
ABTA's stance contrasts to a recent poll by GoEuro which believes UK, Germany and French holidaymakers are affected by the current situation in Greece.
Out of 2,500 participants, 59.2% of Britons said they were less likely now to visit Greece because of the economic and political circumstances. Whereas as many as 84% of Germans were ruling out the idea of visiting their usual popular destination, and 62.6% of the French said it was no longer an inviting option. But the Spaniards are still keen to visit.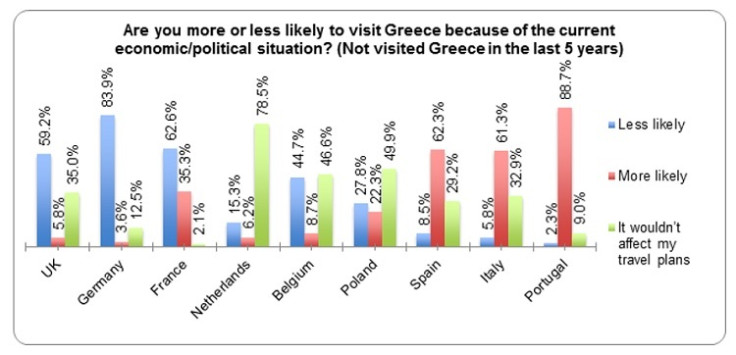 "Nevertheless other European nationalities revealed the situation wouldn't affect plans to visit and in the case of visitors from Spain it could even motivate revisiting," A GoEuro spokesman said.
UK's top five holiday resorts
Spain
France
Italy
USA
Greece
Source: ABTA
It comes as Scotland Yard announced this week that it would double the number of its counterterrorism officers overseas to protect UK tourists from further Islamic State (Isis) attacks
Popular destinations in Turkey and in Egypt are particular concerns because they are potential havens for IS activity.
"Tunisia is a game-changer. It was an organised attack — definitely not a lone wolf — and there could be more," a police source told the Evening Standard.
"So we need to do more to protect Britons abroad. We think we can do that. We'd like to have boutique counter-terrorism units across the region to work with local security forces. It will cost some money, but we think we are pushing at an open door. Everyone recognises the challenge."