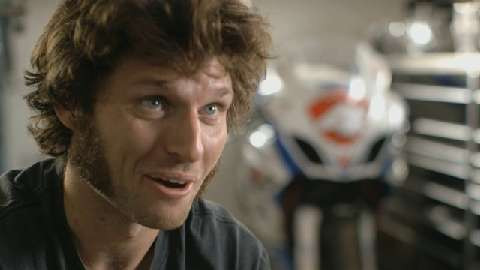 British lorry mechanic and motorbike racer Guy Martin has set a new world speed record for a 'gravity-powered' sledge of 83.5mph – smashing the previous record by 21mph.
"It was brilliant," said Martin, who worked with Amy Williams, the 2010 Olympic gold medallist, in the skeleton bobsleigh event.
"The record attempt wasn't that scary but just standing on the slope was, because it was so steep," he told the Sunday Times.
The route was so severe that over the 984ft run he dropped 360ft, a 37% slope, a steeper incline than the main climbing route on Everest.
Scientists and engineers from Sheffield Hallam University worked to construct the sledge, which uses downhill skis as runners.
Martin's new world record beats the previous record set by German Rolf Allerdissen, who reached a speed of 62.25mph in April 2010.
Martin made his run on Pista Riberal, where the speed skiing world cup will take place in February.
"I love danger. If it all goes horribly wrong, you're snookered. That's what I like and that's the reason I do it, because it's dangerous," Martin said.
"If you have a near-miss moment and you come out of it, you think, 'Bloody hell.' I get a massive buzz out of it."
During training in the Swiss resort of St Moritz, Martin crashed at Shuttlecock corner. This gave him the dubious honour of entry into the Shuttlecock Club, whose membership is made up of those who have crashed at this notorious site.
The 32-year-old racer's run will soon be shown on Speed with Guy Martin on Channel 4. In the TV series, Martin attempts a number of strange speed records.
In one show, he breaks the UK speed record for riding a bicycle by reaching 112mph on Pendine Sands in south Wales.
It's an extremely dangerous pastime, which Martin is well aware of. "I broke my ankle in 2003 and since then I've broken my back, ribs, both wrists and both thumbs," he told the Telegraph. "I broke my back and eight ribs in one crash in the Isle of Man in 2010."
Watch the trailer for Speed with Guy Martin below: