Britons are happier since the Brexit vote, despite a squeeze on household incomes, higher inflation and a weaker pound.
The Office for National Statistics (ONS) presented its first data on national well-being since the vote to leave the European Union in June last year. The report also saw the highest happiness measure since the body began collecting this data in 2011, on the instigation of former prime minister David Cameron.
The survey, which measures life satisfaction, feelings that the things we do in life are worthwhile and happiness, found these factors "increased slightly in the UK between June 2016 and 2017".
The survey talked to more than 100,000 British adults and asked questions about satisfaction and anxiety levels on a scale of 0 to 10.
However, the report found that the increase was driven by rises in England, with results in Scotland, Wales and Northern Ireland flat-lining.
Matthew Steel of the ONS said: "Today's figures, the first to be based on a full-year of data since the EU referendum, show small increases in how people in the UK rate their life satisfaction, happiness and feelings that the things they do in life are worthwhile."
The data revealed that by the end of June this year, Britons had an average life happiness rating of 7.5 out of ten.
Their life satisfaction rating was at 7.7 out of ten and the rating for feeling life is worthwhile hit 7.9 out of ten.
All three of these measures were marginally up on the year before – while anxiety ratings were unchanged at 2.9 out of ten.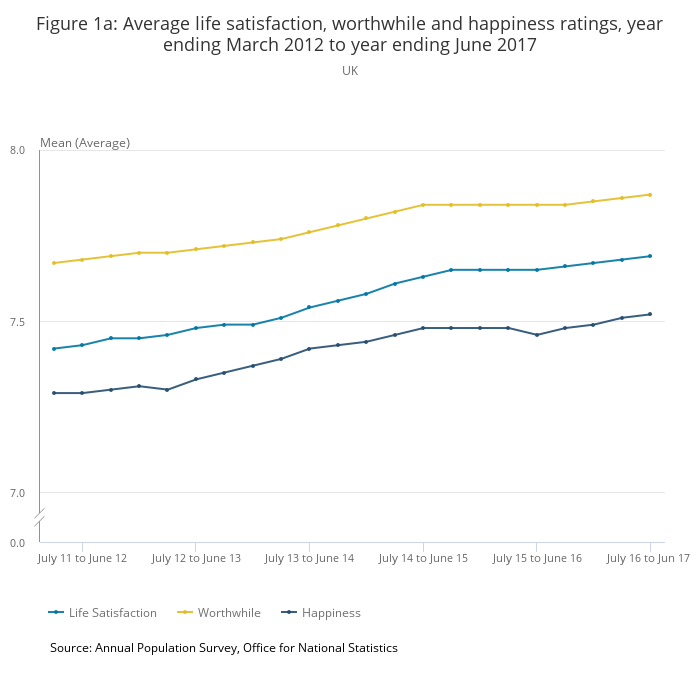 The ONS said it recognised that "it may be surprising that levels of personal well-being are increasing", given a slowing economy and terror attacks in Manchester and London this year.
But data body pointed out that some economic indicators were at record levels, such as highest level of UK employment since 1971 and the lowest jobless rate since 1975.
But weighed against that the pound is still more than 10% down against the dollar since the Brexit vote, making a range of imported goods on the high street more expensive. Also, inflation hit 3% in September and the cost of living is expected to have risen again in October, with official figures released next week.
The ONS noted: "Although Article 50 has been triggered, we have not yet left the EU and hence the implications on the daily lives of people in the UK remain to be seen."