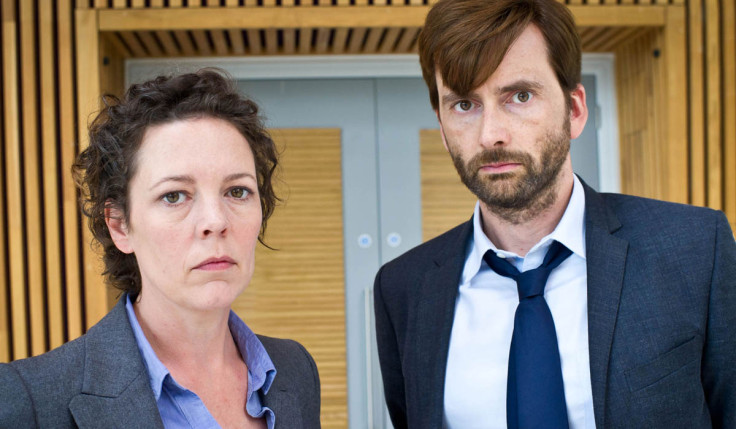 The third series of Broadchurch has already gone down a storm with viewers as they put the odd and disappointing series two behind them, and it's back on ITV tonight for the second episode with onscreen golden duo David Tennant and Olivia Colman.
Last week's first episode creeped out viewers as the detectives got to work on a rape case, and now we'll see how the local female farmer's trauma has sent shockwaves through the seaside town as news of the attack spreads.
But although the shocking incident has got the residents of Broadchurch talking, the murdered boy of the brilliant first series, Danny Latimer, is not forgotten. The lives affected by his death have tried to move on but are forever altered.
His parents Mark and Beth will feature in the second episode, as it is plain to see how their feelings of loss and mourning are still very raw. There will be a heart-wrenching scene between them – as actors Andrew Buchan and Jodie Whittaker will set viewers off no doubt. We'll discover how far Beth has come while Mark is still struggling with the injustice of seeing his son's killer walk free.
In perhaps a teaser of what is to come, he later angrily tells sympathetic local vicar Paul Coates that he is "still out there, still living."
Proof that the show's creator Chris Chibnall knows how to keep viewers enraptured by seamlessly working several storylines into the general plot, we'll slowly learn more about rape victim Trish Winterman (Julie Hesmondhalgh) as we begin to assess who is to blame.
Last week's first episode welcomed heaps of praise from viewers on social media sharing site Twitter, with one fan claiming: "I was a detective on a sexual offences unit. #broadchurch was as close to real as I've seen on TV as to how such cases are handled. @ITV" as another wrote: "Wow. David Tennant and Olivia Colman are phenomenal but Julie Hesmondhalgh was out of this world what an episode!"
A third added: "#broadchurch is so wonderfully crafted. How can a setting so breathtakingly beautiful be used for something so utterly dark. Gripping TV".
Broadchurch continues on ITV tonight (6 March) at 9pm.