Brock Lesnar and Mark Hunt will battle it out for the men's heavyweight bout during the Ultimate Fighting Championship (UFC) 200 at the T-Mobile Arena in Las Vegas on Saturday, 9 July.
Where to watch live
The Main Card event starts at 3am BST (Sunday in the UK). Live coverage is on BT Sport 2 and BT Sport app. Live streaming of the link is available on UFC's official website.
Overview
Former Ultimate Fighting Championship (UFC) heavyweight champion and current World Wrestling Entertainment (WWE) fighter, Brock Lesnar returns to the Octagon for the first time in almost five years for a one-off fight on 9 July.
Lesnar's stint in the UFC lasted only three years but in that time he showed why he is one of the best, winning the heavyweight title two times and finishing his Mixed Martial Arts (MMA) career with a 5-3-0 record.
At UFC 100, Lesnar overpowered Frank Mir, in a fight that brought a pay-per-view rate of 1.6 million, making him one of the biggest draws in the company's history. The 38-year-old is perhaps one of the most popular fighters in the world and with this clash he becomes the first active WWE wrestler to turn out for both companies.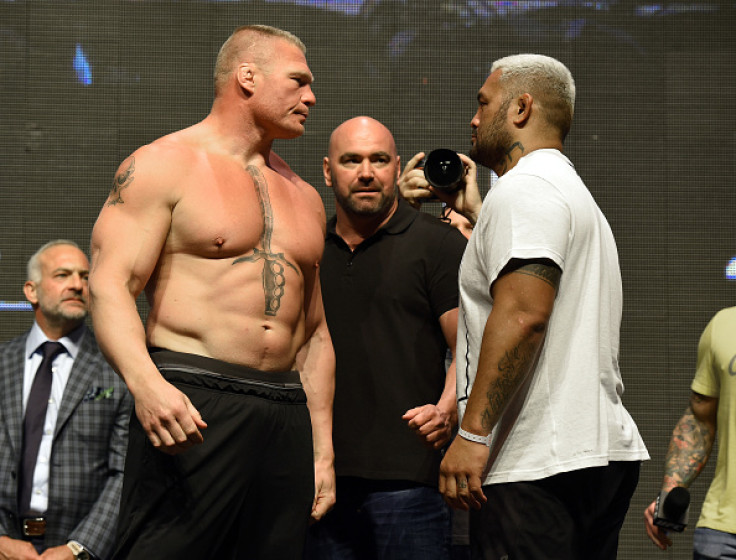 His opponent Hunt is currently ranked number eight in the UFC heavyweight division and is one of the best kickboxers in UFC at present. Known for his striking ability, the Samoan usually beats opponents with a one-shot knockout.
In fact, many have predicted that Hunt will knockout Lesnar in the first round itself and that he will not let the fight meander on until the fifth and final round. He will know that if Lesnar gets him to the ground, then it spells trouble and his strategy will be to try and connect with one of his kicks at the earliest.
What they say:
Brock Lesnar: "Obviously I'm here to win a fight, but it's fighting, anything can happen. But I'm prepared for whatever, I don't think it's going to define me. I'm just happy to be here, I really am, it's no bull****. This is exciting, I'm on the card at UFC 200."
Mark Hunt: "I think I'm the best fighter on the planet, sitting right here and defeating Lesnar takes me a step closer to the UFC title. I feel fit and healthy for the battle, having spent the last few weeks in the Vegas heat with my crew getting ready."
Betting odds (betfair)
Brock Lesnar to win: 13/10
Mark Hunt to win: 8/13
Main Card Event
Women's Bantamweight: Miesha Tate (c) vs Amanda Nunes
Heavyweight: Brock Lesnar vs Mark Hunt
Light Heavyweight: Daniel Cormier vs Anderson Silva
Featherweight: Frankie Edgar vs Jose Aldo
Heavyweight: Cain Velasquez vs Travis Browne