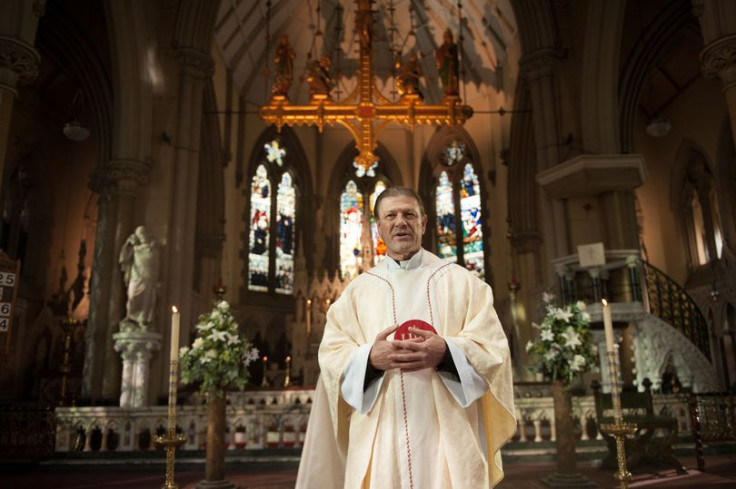 Sean Bean plays a Catholic priest battling personal demons in tonight's (30 May) series premiere of Broken on BBC1. He appears alongside another famous face, Anna Friel.
Father Michael Kerrigan, of a parish in the North West of England, advises a hard-up parishioner struggling to feed her family – but begins to experience worrying flashbacks of his traumatic childhood while his mother was dying.
Bean – known for his big action blockbusters – is almost unrecognisable in the role as the solemn, softly spoken Catholic priest taunted his past. Traits of gentleness and compassion seep through his character, even speaking out on how the strains of a first communion can hit parishioners, stating: "People are taking on years of debt for a ceremony lasting less than an hour".
One of those people is Christina Fitzsimmons – played by Friel – a single mother who has lost her bearings. A dramatic scene shows her being late for her job at a bookmakers and ending up having a fist fight with her female boss in front of a gambler who ignores them and continues to play on a FOBT.
She goes to desperate lengths to get enough money to feed her children and pay for her daughter's Communion dress, and when she confesses her crime to Michael, he doesn't judge. He tells her: "I'm not the Virgin Mary's biggest fan."
The series will also tell the heart-wrenching story of Helen (Musa Otaru) and her mentally ill son, and a gambling addict who goes by the name of Roz Demichelis.
The series is created by Jimmy McGovern and it's about the realities of ordinary life and a community torn apart by poverty. Of the show, he said: "It doesn't pull its punches and it's not for everybody, but if you stay with it then it is uplifting.
"It's about a man who believes he has not lived a worthwhile life and yet who learns he has. It's about reconciliation, redemption and hope," The Mirror reports.
Broken airs at 9pm on BBC1 tonight (30 May).