A Swedish model has said she feels "exploited" after photographs of her were used in the sting against Tory MP Brooks Newmark without her permission.
Images taken from Malin Sahlén Instagram account were lifted by a male freelance reporter who was posing as a Conservative PR worker named Sophie Wittam.
The reporter then sent a series of messages on social media to several Tory MPs, including Newark, and eventually convinced the civil society minister to send "Sophie" an explicit image of himself.
Newmark resigned as MP for Braintree on the eve of the story being published by the Sunday Mirror after he found out the woman he had been sending messages to did not exist and his behaviour was about to be made public.
Following the controversy, the model has spoken of her anger that her photographs were used without her permission and expressed her sympathy for Newmark.
Sahlén told Swedish newspaper Aftonbladet: "I am shocked. It is unpleasant that anyone used [my] picture without permission.
"I do not want to be exploited in this way and that someone has used my image like this feels really awful, both for me and the others involved in this."
Sahlén also discussed the story on her personal blog, telling her readers how "something terrible" had happened to her.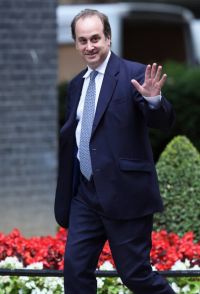 She added: "Right now I feel very confused and do not understand that what has happened has happened. I can blog more about that another day, but right now I do not talk about it."
Elsewhere, a second woman whose pictures were also used during the sting against the Tory MPs has criticised the newspaper for using the images without her consent and believed Newmark should not have resigned over the matter.
Charlene Tyler, whose photograph of her sunbathing was used by the Sunday Mirror for the story, told the Telegraph: "The fact that a newspaper was stealing my photograph is quite wrong. The newspaper's taken it too far."
She added: "I think grown adults can do whatever they like as long as both of them are over the age of consent. I don't think it's something to resign over.
"I hope the MP is okay. It makes me feel really awful that this will ruin his life."
Following his resignation, Newmark told ITV News: "I have been a complete fool. I have no one to blame but myself. I have hurt those I care about most. I am so, so sorry. But I just need time with my family."
Another Tory MP who was contacted by "Sophie" has said he will be referring the Sunday Mirror to the new press regulator over entrapment complaints.
The MP for The Wrekin in Shropshire said: "It is in the public interest that their actions are fully investigated. This is the first real test as to whether the new body, Independent Press Standards Organisation [Ipso], has any teeth."