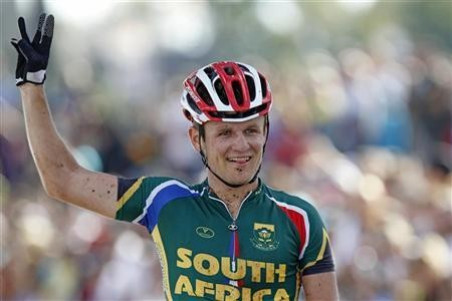 The world of cycling has been stunned by the death of South African mountain biker Burry Stander in a road accident.
The 25-year-old died after colliding with a minibus taxi on a coastal road near Shelly Beach, about 90 miles southwest of Durban.
In a statement, police said: "The taxi driver allegedly stopped after the accident until the arrival of the police.
"No arrest has been made at this stage,"
Stander competed for South Africa at the London Olympic Games last summer, finishing fifth in the cross-country event, and was ranked among the world's very best riders. He also competed at the Beijing Olympics in 2008.
Stander's death leaves his fellow professional cyclist wife Cherise Taylor a widow.
Tributes were paid to Stander by the South African Sports Confederation and Olympic Committee (SASCOC). President Gideon Sam said: "This is indeed terrible news to start 2013 with.
"Burry was the epitome of an Olympic athlete; talented, ultra-competitive but at the same time extremely humble and a true gentleman.
"SASCOC, the cycling fraternity and the entire South African sporting community mourns his passing and sends our prayers to his wife and family.
"I'm totally shattered because athletes of Burry's calibre are not easily replaced. It's an enormous loss to the entire cycling family.
"I've said this time and again but it is really time to work even harder at protecting both our runners and cyclists who used the roads daily to do their training."
Olympic sprinter Oscar Pistorius used Twitter to speak of his pain at Stander's death.
"Absolutely devastated by the tragic news of Burry Stander's passing. A South African Icon and sporting great. RIP my friend."