Burundi: What next for Inter-Burundi dialogue after unsuccessful negotiations?
Facilitator Benjamin Mkapa intends to rely on the East African Community to try to unblock the situation.
The facilitator of the talks to solve Burundi's 20-month crisis, former Tanzanian President Benjamin Mkapa, has announced his intentions to rely on the East African Community (EAC) to try to unblock the situation, after the latest round of talks unsuccessfully ended on (19 February).
After stalling on negotiations for months, the Inter-Burundi Dialogue on the deadly political violence that has rocked Burundi hit yet another wall after the negotiator was unable to obtain a signed document from all parties, as hoped.
Following the end of the talks on Sunday (19 February), Mkapa asked regional leaders of the EAC, who appointed him to facilitate the negotiations, to call an urgent summit to resolve the sticking issues.
Mkapa was expected to summarise the Burundian actors' different positions in order to draw up a draft peace agreement that he will submit to the EAC heads of state.
The government's decision to boycott the four-day round of negotiations in Arusha weighed on the session, as the authorities still refuse to discuss with opposition leaders including Cnared, which it claims are sought by the Burundian justice.
Authorities, which claim that there is no crisis in Burundi and wants to focus on the 2020 election, accuse Cnared of leading a foiled coup plot in May 2015. Cnared has always denied the allegations.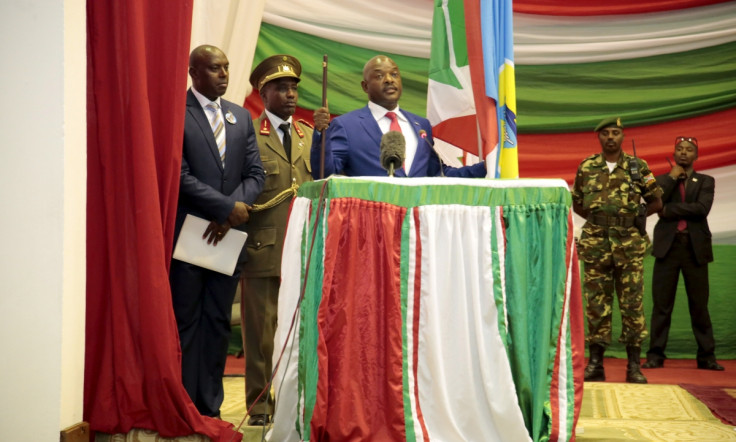 "We cannot talk to people who are wanted by the judiciary system because they do not have political freedom. A criminal has no freedom to go and give (his) ideas to build the country," said Evariste Ndayishimiye, the secretary general of the ruling CNDD-FDD party, said.
Opposition leaders wanted by Bujumbura, who were not arrested by the Tanzanian authorities in Dar es Salaam, appealed to the EAC heads of state to convince President Pierre Nkurunziza to get directly involved.
"The facilitator alone will not be able to do anything, (he) will never be able to make Nkurunziza come here," said Jean Minani, spokesman for the Cnared, the main opposition group. "It is only the region's heads of state who could get him to the negotiating table. They must be more concerned than ever about the Burundi issue."
Participants, meanwhile, said the talks were better prepared than the previous ones, particularly given the assistance of the African Union and the United Nations.
© Copyright IBTimes 2023. All rights reserved.