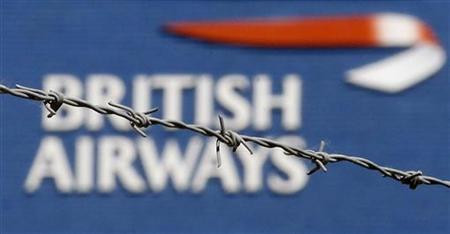 Cabin crew have voted by two-third majority to reject the latest offer from airline British Airways, whose shares fell 2.6 pence on the news.
"Less than 15 pct of all British Airways employees have voted in a democratic independantly run ballot to accept this company's offer," said Unite secretary Tony Woodley, "And this is now a wake-up call for Willie Walsh."
"He's accused the union of beating people into strike action but this isn't the case now...it's really important that Willie Walsh wakes up and understands that the vast majority of his employees are deciding not to accept this offer."
"I'm gonna give him an opportunity now to come back to the negotiating table and let's reach an agreement where the majority of his people will accept it and let's get back to work."
Almost half of the affected Unite union members voted on BA's offer of two years guaranteed salary rises from February 2011, with a 2.9 pct increase next year and 3 pct the year after.
The number of votes cast was less than half the unionised crew and was well below previous ballots suggesting a weakness for action after three weeks of action late May, early June that saw British Airways traffic reduce around 15-20 pct.
British Airways' Willie Walsh has stated that should Unite the Union strike again then he would be able to run a 100 pct service.
In a statement BA, said, "We are encouraged by the result of this ballot which shows that 73 pct of our cabin crew did not reject our offer." adding that the union had lost the moral authority to represent the views of the cabin crew.
The dispute which began in November cost British Airways 150 million pounds over the last year, which combining with ash cloud disruption led to the biggest annual loss since it was privatised in 1987 of £531m in the 12 months to March.