Caitlyn Jenner has been named Barbara Walters' most fascinating person of 2015. The reality TV star who this year went public with her transition to become a woman was featured in the annual list along with Amy Schumer, Misty Copeland, Donna Karan, Bradley Cooper, Tracy Morgan, Donald Trump and Bernie Saunders.
While it is traditional for the personalities featured on the ABC list to sit down with Walters for her annual 10 Most Fascinating People special, Jenner failed to do so despite topping the list and has not even acknowledged the recognition on social media.
Nevertheless, Walters praised the former Olympian for creating a "seismic shift in the gender universe" by opening up about her journey as she transitioned, which was documented on the reality TV series I am Cait. "Through her own transition, Caitlyn Jenner transformed society this year," said Walters. "And that for us makes her the most fascinating person of 2015."
She explained that Jenner's transition made the world ask serious questions, such as: "What is gender? What was the real difference between Bruce and Caitlyn Jenner? She became a champion for people who had long been pushed to the margin of society. Famous and familiar, she raised awareness and acceptance of transgendered people," Walters added.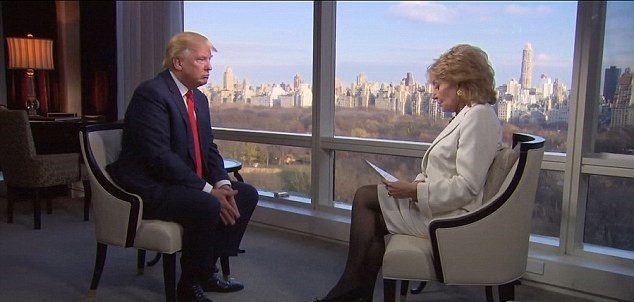 Misty Copeland, who made history as the first African-American Female Principal Dancer with the prestigious American Ballet Theatre, also made the list, while Donna Karan became the first ever fashion designer to be included.
Introducing controversial Republican frontrunner Donald Trump, Walters said that "controversy sticks to this man like hairspray". Demonstrating her point, Trump proceeded to extoll the virtues of guns, claiming that he would have stopped the San Bernardino terror attack in California if he had been at the scene of the massacre.
"If you had three or four people - like me, I have the right to carry, I have a license to carry - if you had people like me, in that room, and somebody started shooting, I guarantee you, we're going down shooting," Trump said. "I'm a big believer in the Second Amendment. The bad guys will always have guns."
He also defended his call for Muslims to be banned from entering the US. "This country, our country, has to get its act together," he said. "I have tremendous friendships in the Muslim community - tremendous relationships - they're great people - but we have to get smart, and the people that I know in the Muslim community agree with me." Asked if he was a "bigot," Trump insisted: "Not at all. Probably the least of anybody you've ever met."
Walters also came face-to-face with People Magazine's Sexiest Man Alive, Bradley Cooper. "Many women see you as the perfect man," she said, but Walters was surprised by Cooper's response as he insisted that he was repeatedly turned down for leading roles before an agent finally told him: "You're not really f***able."
Stand up comic and actress Amy Schumer was propelled to fame with her show Inside Amy Schumer in 2012. This year the 34-year-old made her big screen debut with Trainwreck and made headlines after opening up about her body insecurities. Describing her as "a very good looking woman" Walters commented: "But you don't like your looks."
According to the Mail Online Schumer said she revels in making fun of how the world and Hollywood sees me. "I'm not a model, and I don't feel apologetic about that," she said. "I feel good naked. I feel like when I take my clothes off saying, 'You're welcome.'"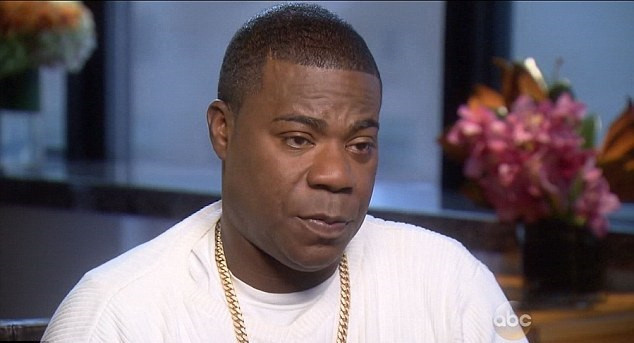 Comedian Tracy Morgan spoke movingly about the crash that almost killed him. The 45-year-old 30 Rock star was left in a critical condition after the limousine he was travelling in overturned in a six car pile up.
"I survived that crash for a reason," he said poignantly. "I'm still here for a reason. I guess my room wasn't ready. Maybe he kept me here to raise my daughter, raise my family. Anyone who hasn't spent eight days in a coma can't tell me nothing - because I got closer to God than anyone on this planet."
He told Walters that the crash was life-changing and taught him the value of true happiness. "Simply having something to look forward to. Think about what you've got to look forward to and then you smile, and that's where happiness lies," he said, adding that his own happiness comes from looking forward "to grabbing the mic to going home to seeing my daughter and my wife. All of that makes me smile, and so that makes me happy."