Caitlyn Jenner has been named one of Glamour magazine's Women of the Year. The 66-year-old, who announced her transition in the summer, has been acknowledged for her status as a role model for the transgender community.
In the issue announcing the award winners, the I Am Cait star, who was married to Kris Jenner, 59, for two decades, opened up about her new life as a woman. She said: "I am just excited about the future for the first time in a long, long time. And that is a nice feeling to have ...To be honest with you, if the worst thing in the world that happens to you is you are trans, you've got it made."
Daughter Kylie, 18, also told Glamour: "She's happier, so I'm happier, and we connect more."
News that Caitlyn had been selected for the title, prompted feminist Germaine Greer to accuse the reality TV star of 'stealing the limelight'. She claimed that 'misogyny played a big part' in Glamour's decision to name Jenner one of their Women Of The Year.
It's the latest honour for Caitlyn, who in July was awarded the Arthur Ashe award for courage at the 2015 ESPY awards. Receiving a standing ovation, in an emotional speech she stated her sense of responsibility to represent the issues affecting the transgender community. "I know I'm clear in my responsibility in going forward," said Jenner. "To tell my story the right way, for me, to keep learning. To do whatever I can to reshape the landscape of how trans issues are viewed, how trans people are treated and then, more broadly, to promote a very simple idea. Accepting people for who they are, accepting people differently."
Shortly after her stand-out appearance at the ESPYs, she also made Vogue magazine's best dressed list.
And there was even more reason to celebrate, as Caitlyn marked her 66<sup>th birthday on Wednesday (28 October). She was inundated with birthday wishes from her family including Kim Kardashian-West, who posted a note on Instagram writing: "Happy Birthday Caitlyn! Are you 66 or is Caitlyn 1? lol That was the debate at our bday lunch yesterday!"
"Have the best day ever filled with lots of love & laughs!" she added. "You have shown me what it's truly like to live an authentic life without caring what the world would think! I love you!"
Kylie Jenner wrote a message on her own site saying: "Happy birthday Dad! I love you so much and am so proud of you! I hope this next year is filled with love and happiness! Love, your baby forever."
Khloe Kardashian said: "Happy birthday to one of the most inspirational people I know. It's your first birthday, and I couldn't be more thrilled for you to celebrate it style. Get glam, girl!"
Kendall Jenner, who recently admitted that she had struggled with her father's transition, shared a heartfelt tribute saying: "Happy birthday to the most wonderful, sweetest person I know!!! You have always been there for me, whether it was teaching me to ride a bike or picking me up from school everyday or just being a shoulder to cry on.'
"You are my hero and the reason I am the person I am today,' she continued. 'I'm soooo proud of everything that you've been through and accomplished this year. Love you, dad! I hope this birthday is your best one yet."
The family gathered to celebrate Caitlyn's birthday a day earlier and while Kris Jenner was noticeably absent, the former couple were recently photographed together for the first time at a celebratory dinner to mark the 18<sup>th birthday of their youngest daughter Kylie.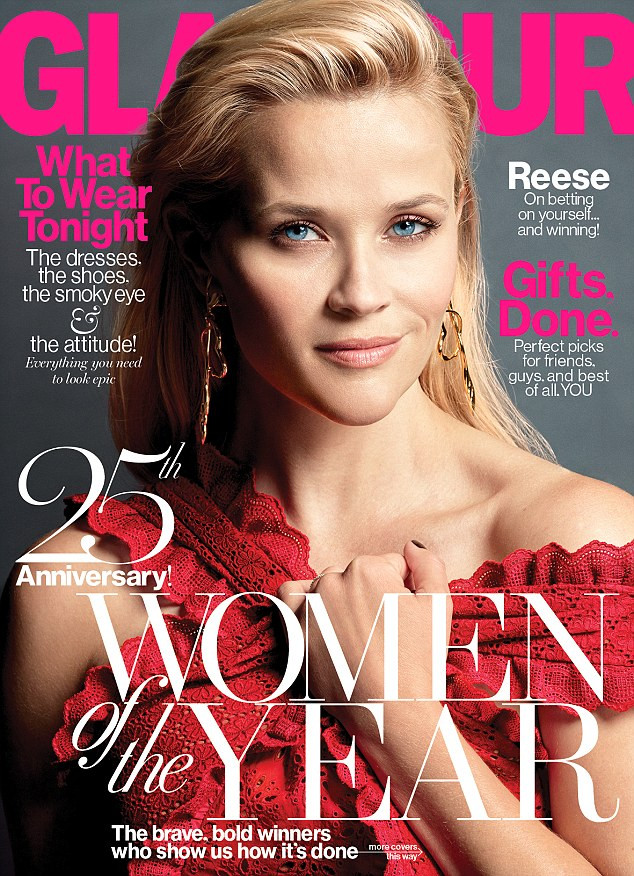 Also recognised by Glamour for Women of the Year Award are Reese Witherspoon, Victoria Beckham, Misty Copeland, Elizabeth Holmes, Cecile Richards, the Women of Charleston, and the U.S. women's national soccer team, Mail Online reports.
Commented on the feminist ideology underlying the movie Legally Blonde Witherspoon explained: "I was debating whether to do Legally Blonde, and I saw this interview with Gloria Steinem about how important Goldie Hawn's role in Private Benjamin was for women.
"'By the end of the movie, the character socked her fiancé in the face at the altar because he didn't understand who she'd become through her journey. I was like, 'I feel like Gloria Steinem told me to do Legally Blonde. That's how Elle Woods is too!'
"She starts out thinking she's gonna follow a man, but in the end she's like, "I don't need you."'
Victoria Beckham, who made the transition from pop star to fashion designer, said that she remains an advocate of Girl Power. She said "(I) did have to find myself and my confidence. And I want to make other women feel the best version of themselves. That's the same message as the Spice Girls. It's still Girl Power."
The women will be honoured at Glamour's 25th Anniversary Women Of the Year Awards.