Manston Airport in Kent is to be used as a temporary lorry park to ease congestion on the M20 caused by Operation Stack due to the ongoing crisis in Calais, the government has confirmed.
Currently a section of the M20 has been closed and lorries are being held meaning other traffic is forced to use smaller side roads and the M2 to reach and travel out of the port of Dover.
Transport minister Lord Ahmad says the use of the airport - which is currently disused - is merely an interim measure until a longer-term solution can be found.
"By using Manston Airfield we have secured an interim solution while we work to find a longer term resolution," said Lord Ahmad.
As part of the plan livestock, perishables and fresh food will be sent directly to ports. Hazardous goods, medicines and other essentials will also be prioritised and not be directed to Manston.
However the plan attracted criticism from local campaigners, including the Conservative MPs for both North and South Thanet, and UKIP's NIgel Farage, whose party controls Thanet Council.
In a statement UKIP's Thanet Council leader Chris Wells said: "This is a simplistic and short-term approach to the ongoing crisis in Calais and Dover."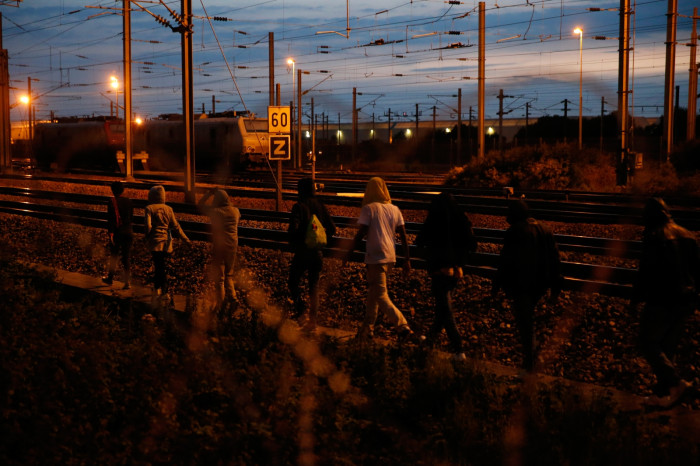 Cross-Channel ferries and trains have been disrupted for weeks, due partly to the huge number of migrants attempting to reach Britain and also industrial action carried out by French ferry workers.
There were further delays to the Channel Tunnel today after an unidentified item was found in the tunnel. Eurotunnel said the service reopened after a three hour delay.
Overnight French police recorded around 600 attempts to enter the tunnel by migrants, down from a peak of over a thousand last week. Foreign secretary Philip Hammond said the slowdown showed Britain had "got a grip" on the crisis.
However the Road Haulage Association (RHA), whose members are losing millions of pounds due to the long delays, called on Prime Minister David Cameron to cut short his holiday to see the extent of the crisis for himself.
RHA chief executive Richard Burnett said: "Without witnessing the mayhem at Calais first-hand, neither the prime minister nor his advisers can fully grasp the severity of the situation."