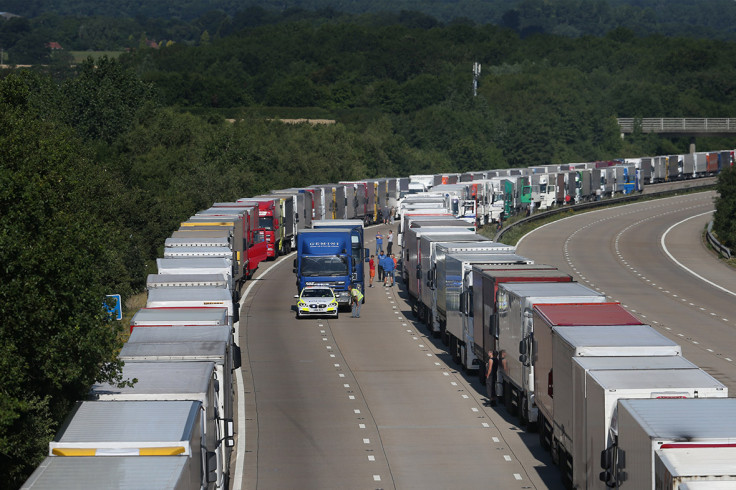 Kent Police and the council are asking for government help in dealing with the arrival of migrants from Calais as well as the growing traffic chaos along M20 as lorries turn the motorway into a parking lot while waiting to cross over to France.
Kent County Council leader Paul Carter has met with Home Office officials to request support in dealing with the arrival of young migrants in Dover, the BBC reports.
And Kent Police has asked its counterparts in neighbouring counties for help in managing Operation Stack, which has been in place on an on-and-off basis since June due to disruptions in the Channel crossings.
Prime Minister David Cameron, who has just ended his four-nation visit to Southeast Asia, is expected to chair a meeting of the government's emergency committee Cobra meeting to discuss the Calais issue today morning (31 July).
Carter told the BBC that there was a "massive logistical exercise" underway in Kent, with the surge in the number of migrants arriving set to continue.
In the last three months, the number of under-18 asylum seekers in the care of the Kent County Council has nearly doubled to 605.
"Our social services are working all the hours that they possibly can and we have no more capacity to take many more in the coming weeks if the increase in the numbers continues as in the past few weeks."
Ministry of Defence may offer land as traffic chaos continues
Carter said the council is facing a £5.5m shortfall in covering care costs and was now asking for help form Home Secretary "Theresa May down".
Highways England has said that nearly 6,000 lorries parked on the M20 motorway under Operation Stack will continue into the weekend.
BBC notes that this is the first time Kent Police is asking its neighbouring counterparts in southeast England for help.
New fencing supplied by the UK government is being put up on the French side of Eurotunnel and is expected to be completed in coming days. Other high-security fencing being installed around the platforms at Coquelles near Calais has been completed, Eurotunnel said.
Meanwhile the BBC quotes sources as saying that the Ministry of Defence may offer land as an alternative for lorries to park to help ease the pressure on M20. Potential locations under discussions include the Manston Airport in Kent which is no longer in use.
It said Permanent Secretary Mark Sedwill, the most senior civil servant at the Home Office, held a series of meetings in Kent on Thursday.