People travelling from Paris to London on board Eurostar trains were stranded for up to five hours overnight on 1-2 September as migrants targeted the passenger trains for the first time. Distraught travellers who were stuck in Calais after their train broke down reported seeing "trespassers" on the roofs of the carriages. One passenger, Simon Gentry, said hours into the fiasco that his train had been "surrounded by migrants".
A Eurostar spokesman told IBTimes UK that in total three trains were "severely delayed" because of trespassers on the tracks. He explained the rail service had to shut off the line to give police access to deal with the incident.
Passengers from one of the three trains had to be picked up by a rescue service when their engine would not restart. "As a separate issue one of those trains couldn't restart so that train was then stuck in Calais. That's why we had a situation where we had a rescue train that was sent out to pick up the passengers this morning," the spokesman said.
He explained that Eurostar had not been directly affected by the migrant crisis as has been the case with freight trains going through the Eurotunnel over the past three months. "Normally we're running through there at 186 miles an hour. We are normally very quick through that point," he said, adding that while he had heard reports of migrants climbing on top of trains, he could not confirm them
A spokeswoman for Eurotunnel, which runs the terminal at Coquelles, explained that the breach in security had occurred at a point on the line under the jurisdiction of French transport authorities.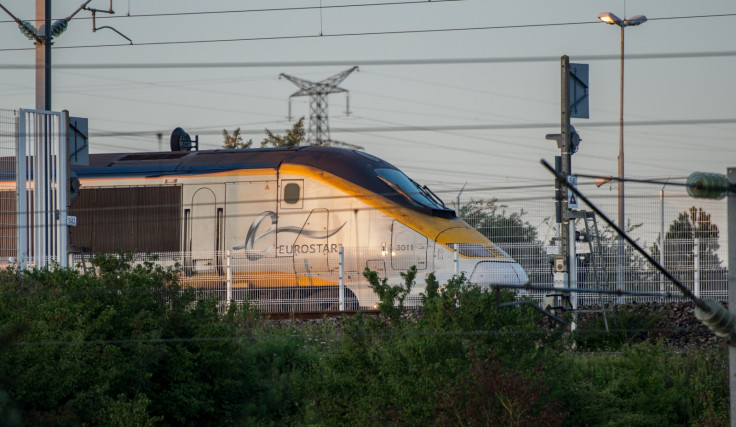 "Because our fencing and our security has been tightened they are going to find other ways," she said. "This is a weakness at the moment and as we have described numerous times the Frethun train station is just like [any other] train station we would have here so migrants can access the tracks."
British and French authorities have made concerted efforts to combat the migrant crisis in Calais which has seen between 3,000 to 5,000 migrants and refugees living in and around the port town, trying to reach the UK.
In August home secretary Theresa May and her French counterpart Bernard Cazeneuve announced a joint police command centre in France to deal with the crisis. France sent 120 riot police to the region at the end of July and Britain provided £7m ($11m) in security measures to protect the Eurotunnel terminal at Coquelles after 2,000 attempts were made by migrants to storm the tunnel in one night.
Activists in the Jungle, where the majority of migrants and refugees in Calais reside, have said the increased number of security breaches at the terminal were the result of tighter security measures at the town's port. At least 11 migrants died trying to get to Britain between June and July this year.
The British and French governments have also agreed a raft of other security measures to tackle the crisis. Existing French forces will be supplemented with mobile policing units, and the UK will provide CCTV, flood lighting and infrared detection technology. Additional 24/7 freight search teams, including detection dogs, will also be deployed.