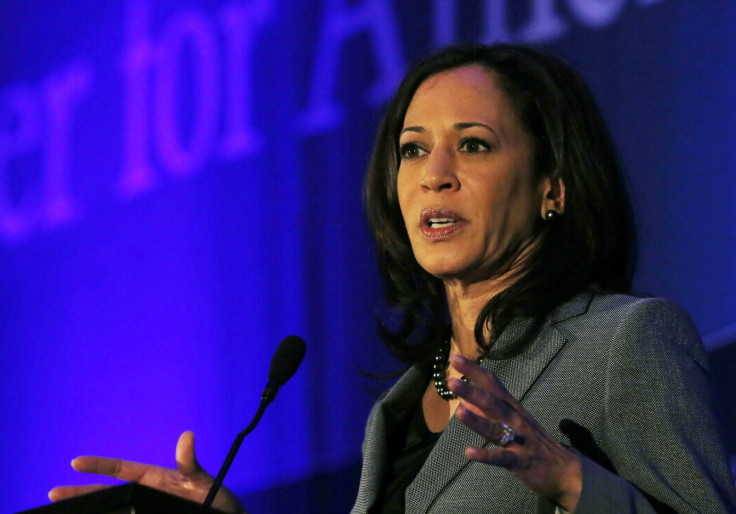 An aide of California Attorney General Kamala Harris was arrested on 6 May for allegedly leading an extrajudicial Masonic Fraternal Police Department. The aide, along with two others, were charged with impersonating a police officer.
Los Angeles County police were first alerted to the trio's activities when they arrived at a Santa Clarita station in February and introduced themselves and their organisation. According to Los Angeles County sheriff's Captain Roosevelt Johnson Brandon, Kiel, David Henry and Tonette Hayes met with his agency for 45 minutes to let them know they were setting up in the area.
After the group left Johnson's station, the police captain assigned detectives to investigate them, the Los Angeles Times reported. "It was an odd meeting," the captain told reporters. "It just raised my suspicion level."
Kiel, Henry and Hayes allegedly introduced themselves to agencies across the Golden State, although their purpose is unclear. Politico reported that Santa Clarity Valley officers discovered the trio had badges, identification cards, weapons, uniforms and vehicles that resembled those of law enforcement.
According to prosecutors in Los Angeles, their effort was a ruse for an unclear reason.
A spokesman for the state's Justice Department, David Beltran, said Harris's aide Kiel was placed on administrative paid leave on 30 April, the date of his arrest. Kiel, who is the deputy director of community affairs, is paid $67,416 (£44,230) annually, the Times noted.
The Masonic Fraternal Police Department's website claims it was created by the Knights Templar's in 1100. "When asked what is the difference between The Masonic Fraternal Police Department and other Police Departments the answer is simple for us. We were here first!" the website states. It also alleges that the group has locations in 33 other states, as well as a department in Mexico City.
Politico reported that Kiel also faces charges of misusing his government identification.