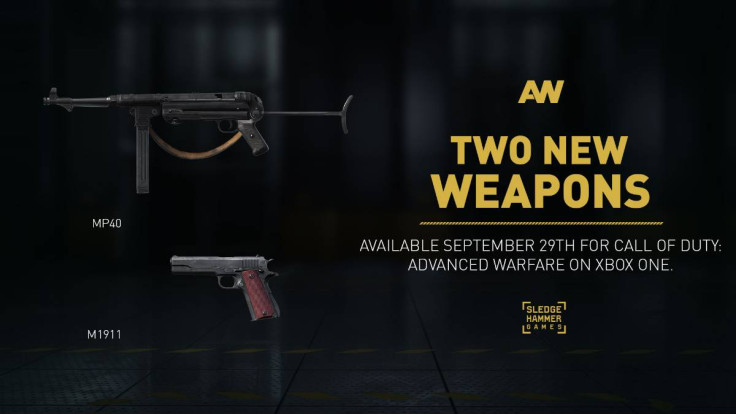 Activision will release an update to Call of Duty: Advanced Warfare which will allow fans to unlock modern weapons. This latest development will initially be released only for Microsoft's Xbox One users and would extend to gamers on PS4 and PCs in October.
According to a community blog post, fans of the first-person shooter video game will be able to unlock weapons such as the MP40 sub-automatic machine gun and a M1911 pistol. Gamers will also get to experience new gaming modes. The M1911 pistol is a secondary weapon complementing primary machine guns. The weapon offers more close/medium-range accuracy in comparison to other weapons.
The MP40 is an automatic sub-machine gun that lets players shoot at a constant rate. The weapon would come in handy when carrying-out a rapid mission such as Capture The flag or Uplink. The semi-automatic gun comes in four variants that can be obtained using Advanced Supply Drops or Supply Drops.
Recently, a new DLC titled Reckoning was seeded to PS4 and PC platforms. This DLC, marks the end of the exclusivity agreement between Microsoft and Activision. Under the partnership, Call of Duty DLCs would first be released for Xbox consoles and then for PS4.
Further, Call of Duty: Black Ops 3 is available in multiplayer beta version for gamers on Xbox One and PC platforms without the customised code. Call of Duty: Black Ops 3 is set for release on 6 November.